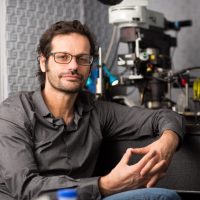 The Pittsburgh Hearing Research Center is based within the Department of Otolaryngology at the University of Pittsburgh School of Medicine and consists of a dedicated group of scientists, physicians and staff working on basic and clinical aspects of hearing and sound perception, in both health and disease. PHRC's Director, Thanos Tzounopoulos, PhD believes that neurosensory research should be collaborated across the Departments. That collaboration is a large part of his vision for the Pittsburgh Hearing Research Center (PHRC).
Two central goals of the Pittsburgh Hearing Research Center are to understand how to reconnect the auditory nerve to the brain (regeneration) and to understand how the brain processes sound. But at the same time, the PHRC has interests of collaboration that will help to understand other areas. For example; the center will address areas of psychiatry that deal with auditory hallucinations as well as many other auditory deficits. The researchers will create a neurological profile of what happens in the ear and correlate it to what is seen in the brain. PHRC will help other  fields of interest by bringing together audiologists, otolaryngologists, psychiatrists, neuropsychiatrists and auditory cognitive neuroscientists who try to understand better and hopefully categorizing to find different types of things correlated with different neural activity and multiple auditory deficits.
The PHRC will also facilitate the collaboration between scientists and clinicians addressing problems that are common among different sensory-related disorders. Dr. Tzounopoulos stated that different sensory systems respond in a similar way to damage, adaptation and recovery. An example is hearing and vision. Collaborative efforts to regenerate the optic and auditory nerve are a highlighted shared focus for the PHRC, Eye & Ear Foundation and the Department of Ophthalmology.
Visit the PHRC website for more details.