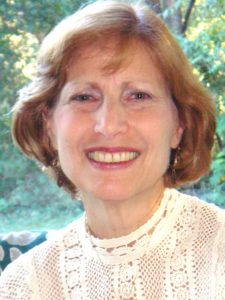 Name: Gail Bleach, Ph.D.
Hometown: Silver Spring, Maryland
How did you first become acquainted with the Eye & Ear Foundation?
I searched the leading research institutions in the field of artificial vision and vision restoration. It was my parents' dream that they would live to see progress in blindness prevention and vision restoration. They unfortunately did not, but they passed the dream on to me. After speaking with many organizations, the Eye & Ear Foundation seemed the most welcoming and the most promising.
Why do you support the Eye & Ear Foundation?
I have learned the foundation has a plan to systematically explore and research the leading causes of blinding illnesses and the best chance to find ways forward to ameliorate or prevent these diseases. I lived with a brother who has retinopathy of prematurity. I know how burdensome being blind is, not just to the individual, but to the whole family. I know firsthand how little progress has been made in this field. We have dedicated our time and our resources for my whole life to easing the burden and giving hope to as many other families as possible who are living with blindness or low vision.
What excites you the most about the work of the Eye & Ear Foundation?
The research teams at the University of Pittsburgh supported by the Eye & Ear Foundation are getting real results for people who have lost vision.
What research or breakthroughs do you hope to see in the future?
I expect to see more genetic research to improve vision and to prevent its loss, and research to provide artificial vision where vision restoration is not possible. It all matters; even the smallest amount of retained or gained light-dark vision or travel vision changes people's lives. If in any small way I can help move this research along, it gives purpose and meaning to my life. Giving back is a powerful experience.
If you would like to learn more about the Foundation or help me support this essential research, please contact the Eye & Ear Foundation's CEO, Lawton Snyder at 412-864-1300.
Or, to make a donation click below:
The Eye & Ear Foundation offers insightful resources to learn more about the research advances and educational efforts within our departments. Register for our Sight + Sound Newsletter, Blog, and Webinars below to learn about our research advances. You can also like and follow EEF on Facebook, Twitter, and LinkedIn. In addition to the resources listed below, the Foundation would be happy to meet with you or schedule a tour to visit the research labs.
Sight + Sound Newsletter: A semi-annual newsletter featuring faculty, research, and donor stories.
Sight + Sound Blog: A weekly email blog featuring a clinician or scientist and details on their current research.
Sight + Sound Bites: A webinar with EEF's CEO, Lawton Snyder, along with a clinician and scientist team presenting their research advances and answering any questions from participants. Sign up to receive invitations to the Sight + Sound Bites Webinars.
Social Media: EEF posts updates on faculty, research advances, and articles on social media. Follow EEF on Facebook, Twitter, and LinkedIn.