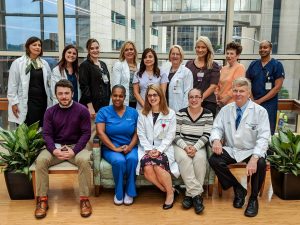 On August 5th and 6th 2019, the Department of Otolaryngology hosted the second annual Head and Neck Cancer Survivorship Symposium. This conference was open to healthcare providers and interested community members, and welcomed keynote speakers from around the country speaking on issues related to the treatment of head and neck cancers, and living with symptoms and side effects after treatment.
Featured presentations focused on issues such as:
Strategies for Maintaining Oral Health
Multiple Symptom Management
Rehabilitative Strategies
Body Image after Cancer
Managing Dysphagia (Swallowing)
Self-Advocacy in Cancer Care
This conference was the first of its kind, bringing together experts from many fields of medicine to share information on multi-disciplinary post-cancer survivorship care, and it gave attendees the opportunity to learn directly from patients about their individual journeys from a diagnosis of head and neck cancer to post-treatment survivorship.
For more information on the conference, please contact Carrie Fogel at 412.864.1451 or carrie@eyeandear.org.