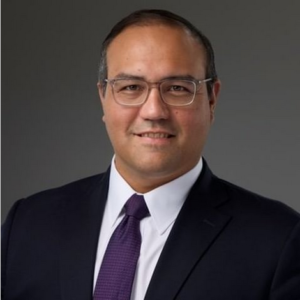 Click here for updates on our research advances.
As I assume my new role as Chair of Otolaryngology and the Eugene N. Myers, MD Chair at the University of Pittsburgh School of Medicine, I am excited to lead one of the elite otolaryngology programs in the Unites States into a new era.  The outstanding faculty includes several of our specialty's most prominent thought leaders and visionaries who are dedicated to the highest standard of clinical care and research. The residency and fellowship programs are among the best in the country. As Chair, I will build upon this remarkable foundation to set a new Pittsburgh standard of excellence in academic otolaryngology/head and neck surgery. 
Our mission is to improve the lives of our patients through clinical innovation, teaching, and the relentless pursuit of new discoveries in otolaryngology/head and neck surgery.
To fulfill this mission, we will support the exceptional clinical programs within our department, including head and neck surgical oncology and skull base surgery, pediatric otolaryngology, otology, and sleep medicine. We will also seek opportunities to expand clinical services through the strategic recruitment of new faculty to meet the needs of our patients in Pittsburgh and beyond. Patient safety and quality will be at the heart of everything we do.
This department will also set the standard for diversity, equity, and inclusion in otolaryngology. While our faculty and resident workforce are already among the most diverse in otolaryngology, we will not rest on our laurels. We will consistently strive to ensure that there are diverse voices at every level of the department, including on my leadership team. Creating an environment in which everyone has an opportunity to reach their goals will be a central tenet of my leadership.
We will continue to support our superior training programs across otolaryngology and ensure that our residents and fellows have access to the latest technologies to support their development as surgeons. I will work with our residency program leadership to explore new approaches to training and mentoring. We will also support our trainees outside of the hospital through strong wellness programs.
Finally, the next several years will see a significant reinvestment into our research programs across the department. Our department already has among the best translational research programs in head and neck oncology and hearing sciences in the world. We will continue to lead in these areas through new recruitment and retention of key faculty. I will also work with new and existing faculty to develop and grow new translational and clinical research across our other divisions. Our goal is to see Pittsburgh at the podium at every national otolaryngology-head and neck surgery meeting and to highlight to the nation the remarkable discoveries and innovations that are being made here every day.
I am excited to partner with the Eye & Ear Foundation, UPMC, the University of Pittsburgh School of Medicine, and our community to accomplish these goals. Let's get to work!
José Zevallos, MD, MPH, FACS
Professor, Department Otolaryngology
The Eugene N. Myers, MD Chair
University of Pittsburgh School of Medicine
Read more about Dr. Jose Zevallos in his brief biography or view his webinar, in which he shares his background and talked about current and future advances in otolaryngology.