Founded three years ago by the Department of Otolaryngology at the University of Pittsburgh, Pittsburgh CREATES (Collaborative Research, Education, And Technology Enhancement in Surgery) is a state of- the-art Surgical Education and Surgical Innovation center housed on the first floor of Eye and Ear Institute.  CREATES was founded with guiding principle that for patients to have better surgical outcomes, surgery needed to be smarter not only in how it was performed but also in the instruments used during the procedure.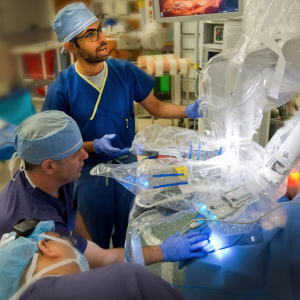 The academic and research-oriented focus of the city, in combination with a burgeoning entrepreneurial culture, has given rise to multiple medical technology start-ups and a strong business community in the health care sector. Drawing on world-renowned expertise in robotics, advanced surgical techniques, and healthcare technology development, CREATES brings together physicians from University of Pittsburgh Medical Center (UPMC), as well as engineers and researchers from the University of Pittsburgh and Carnegie Mellon University, to support the growing industry in advanced surgical devices and systems.
This strong network of regional assets embodies a growing ecosystem that allows CREATES to offer intellectual and physical infrastructure for clinical insight, research, product innovation, training, and other emerging needs to its industry partners.
The Surgical Innovation component of CREATES, under the leadership of Uma Duvvuri, MD, PhD, works with industry to not only test new equipment that is coming to market but also to help develop the next generation of surgical instrumentation.
With your support of the Eye & Ear Foundation, Pittsburgh CREATES can continue to share their cutting-edge surgical skills with physicians from around the globe and, more importantly, in their own backyard.