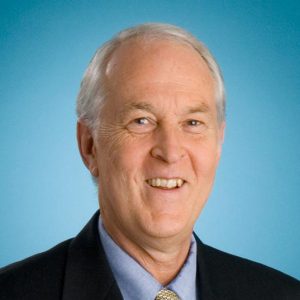 We are sad to report that Jim Funderburgh, Professor of Ophthalmology at the University of Pittsburgh, passed away on November 27, 2019, surrounded by his entire family, at the age of 74 after a four-year battle with pancreatic cancer. Jim was an outstanding scientist, a unique human being, our beloved colleague and friend. He will be missed greatly.
Jim obtained his PhD in Biochemistry at the University of Wisconsin and, after post-doc appointments in Geneva Switzerland, and at the University of Washington Seattle WA, he took a position at Kansas State University in Manhattan, KS. He was recruited to the University of Pittsburgh in 1999 to the growing Ophthalmology department, working on the biochemistry and gene biology of core proteins of the proteoglycan keratan sulfate, the roles in maintaining corenal transparency and the response to wound healing. He made several landmark discoveries in that field, but Jim was always developing new ideas and scientific directions. He more recently did pioneering work on discovering stem cells in the corneal stroma and applying them translationally to cure corneal scarring. This was first shown in mice and was being applied in clinical trials with colleagues in India to treat humans with blinding corneal scars. This resulted in paradigm shifting publications in Stem Cells (PMID 19544455) and Science Translational Medicine (PMID 25504883). His promising early results support the idea that existing corneal scars can be remodeled and resolved by a single treatment with stem cells. He had also established, with Dr. Fatima Syed-Picard, now Faculty of the School of Dentistry at Pitt, that stem cells from teeth had the potential to mediate the same corneal repair mechanisms, resulting in the nation's popular press taking note of the real meaning of "Eye Teeth"! Jim was working with collaborators to apply his discoveries with articial collagen matrices to bioengineer artificial corneas. He was working on the underlying mechanisms by which corneal stromal stem cells and stem cell exosomes act, right up to just a few weeks before his untimely passing. His work laid the foundations for the establishment of a coordinated initiative in the Department of Ophthalmology, the "Jim Funderburgh Corneal Regeneration Project", which will continue in his name with the goal of restoring transparency to human corneas.
His innovative achievements were recognized by the Research to Prevent Blindness Inc, which awarded him the Jules and Doris Stein Professorship of Ophthalmology in 1999, and the 2017 RPB Stein Award for Innovation in Vision Research. His research was recently featured in the Summer 2018 edition of "Pitt" Magazine. Jim was appointed a Gold Fellow of the Association for Research in Vision and Ophthalmology (ARVO). At Pitt, Jim was the Associate Director of the Louis J Fox Center for Vision Restoration. He had served on many NIH study sections and was on the editorial board of many Journals, including as a editor of Molecular Vision, . IOVS, The Journal of Biological Chemistry, and had served as an Executive Editor of Experimental Eye Research.
Jim was a passionate mentor, training many undergraduate, graduate and medical students as well as several post docs. Virtually all have gone on to successful careers. Among notable mentees are Dr Yiqin Du, Associate Professor of Ophthalmology at Pitt, who is continuing the work on stem cells of the cornea and stem cell regeneration to tackle glaucoma; Dr. Fatima Syed-Picard at Pitt; Dr Sayan Basu, who is now pioneering the use of stem cell in human patients as Director of the Center for Ocular Regeneration at the LV Prasad Eye Institute in Hyderabad, India,: and Dr. Daniel Roh, now faculty at Boston University School of Medicine.
Jim was not only an outstanding scientist but an excellent athlete and an accomplished musician. Jim enjoyed running marathons, hiking, biking and did regular kayaking trips with his wife Martha to remote spots such as Georgian Bay, Ontario. Jim was a true explorer: he had climbed many challenging mountains in the US, Europe and Africa and adventured to places such as the slot canyons of Utah. Jim was particularly adept at the trumpet, playing in groups, bands and orchestras across the country. In Pittsburgh, he regularly played in the Edgewood Symphony Orchestra, the East Winds Symphonic Band and in the opera pits with the Pittsburgh Savoyards.
A final thought is that many of us who knew Jim were aware of his great sense of humor- he laughed loud and often. The corridors of science are going to be more quiet with his passing.
Jim is survived by his wife of 54 years and lab associate, Martha; his three children, Dan, Anna and Eva, and four grandchildren.
Paul R (Kip) Kinchington, PhD, Martha Funderburgh, MPH and Yiqin Du, MD, PhD
On Behalf of Dr Jose Alain-Sahel and the Faculty of the Department of Ophthalmology, School of Medicine, University of Pittsburgh