I am excited to share the news that the University of Pittsburgh School of Medicine scientists announced today a potential COVID-19 vaccine, which goes on like a Band-Aid, does not require refrigeration, and lends itself to the massive scale of production required to rapidly tackle a global pandemic.
To read the full press release, please click here.
We are happy to provide the recording of the press conference.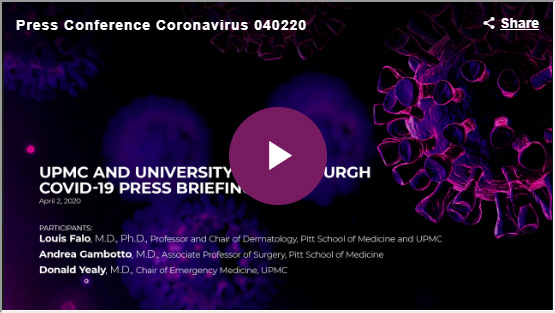 Stay healthy,
Lawton Snyder
Chief Executive Officer
The Eye & Ear Foundation
at the University of Pittsburgh
---
An excerpt from the press release:
"We had previous experience on SARS-CoV in 2003 and MERS-CoV in 2014. These two viruses, which are closely related to SARS-CoV-2, teach us that a particular protein, called a spike protein, is important for inducing immunity against the virus. We knew exactly where to fight this new virus," said co-senior author Andrea Gambotto, M.D., associate professor of surgery at the Pitt School of Medicine. "That's why it's important to fund vaccine research. You never know where the next pandemic will come from."
"Our ability to rapidly develop this vaccine was a result of scientists with expertise in diverse areas of research working together with a common goal," said co-senior author Louis Falo, M.D., Ph.D., professor and chair of dermatology at Pitt's School of Medicine and UPMC.
The authors are now in the process of applying for an investigational new drug approval from the U.S. Food and Drug Administration in anticipation of starting a phase I human clinical trial in the next few months."