Exciting breakthroughs in ocular drug delivery and release may provide relief for vision patients who rely on eye drops, thanks to the work of Morgan Fedorchak, PhD, Assistant Professor of Ophthalmology, Bioengineering and Clinical & Translational Sciences at the University of Pittsburgh.
New Solutions to Old Problems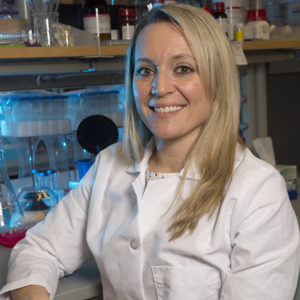 One of the biggest problems patients face with ocular diseases such as glaucoma and chronic dry eye is the frequent administration of medication via eye drops. For example, post-operative antibiotics following cataract surgery must initially be instilled as often as six times per day to prevent a potentially blinding infection. Likewise, patients battling glaucoma sometimes need to administer drops up to two or three times daily. Dr. Fedorchak and her team in the Ophthalmic Biomaterials Laboratory are hopeful their work will help alleviate some of this burden.
"One of the goals of my research is to improve patients' ability to properly administer the correct amount of drug through the use of novel delivery systems and controlled drug release," states Dr. Fedorchak. "While the majority of my work in this area has focused on glaucoma medications, we have also begun testing antibiotic formulations, neuroprotectants, and comfort agents for dry eye."
The key to achieving controlled release of these drugs for the desired time frame, from days to months, is the use of degradable polymeric microspheres. The drug is encapsulated within the microspheres and predictably releases as the polymer chains hydrolyze in vivo.
Advanced Delivery Methods for Sustained Release Ocular Therapeutics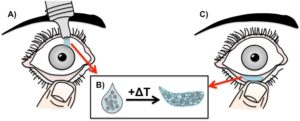 While some patients are unable to administer eye drops (and thus more suited for an injectable, long-term formulation), the vast majority of ophthalmic patients have the ability to self-administer their medication. To meet this need while still reducing the dosing frequency to a level that is more attainable for the average patient, Dr. Fedorchak and her team have developed a novel hydrogel-based eye drop. This drop contains the drug-loaded microspheres but does not interfere with drug release kinetics.
Dr. Fedorchak notes that while the drop itself is instilled in the same way as a traditional eye drop (Figure 1A), upon reaching a temperature of at least 34°C within the lower eyelid, the liquid hydrogel sheds excess water and forms an opaque, stable, and nondegradable solid gel (Figure 1B). This gel is pliable and low volume, making it comfortable in the inferior fornix space, where the embedded polymer microspheres release drug for the period of time needed (Figure 1C). The liquid-gel transition is completely reversible, allowing the drop to be wholly removed at any time by simply flushing with room temperature saline. Preliminary studies in vivo using anti-glaucoma medication demonstrate the therapeutic efficacy of this system comparable to or better than that of the "gold standard" traditional eye drops.
The Path Going Forward
While the COVID-19 pandemic has had an effect on medical research around the world, Dr. Fedorchak is hopeful that with the proper funding, the team will be able to take significant steps in the coming year towards bringing this new drug therapy to market. "We have some exclusive agreements in place to receive funding and continue the development of the technology for a number of diseases," explained Dr. Fedorchak. "We are hoping to have enough data for our first investigational new drug filing by the end of the year, which would be when the FDA can evaluate whether it is ready for clinical trials."
This groundbreaking research, made possible through the generosity of Eye & Ear Foundation supporters, is helping to lay the foundation for innovative new treatments and drug therapies for vision patients around the world. If you would like to be a part of this crucial work being done, please consider making a gift to The Eye & Ear Foundation to help support our research.
For the latest news on advances in the treatment of ocular diseases, subscribe to EEF's Monthly Newsletter.