The Department of Otolaryngology at the University of Pittsburgh School of Medicine is consistently one of the most highly regarded departments in the country. A key component of this long-time success can be attributed to the pioneering efforts that have been made in the field of nose and paranasal sinus cancers.
Sino-Nasal Cancers and the University of Pittsburgh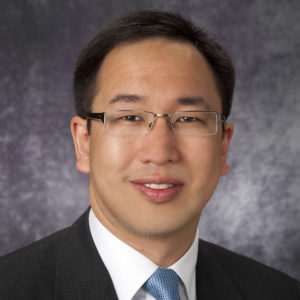 Cancers in the nose and paranasal sinus are rare but tend to present at a late stage. The symptoms are very similar to many other common sinus and nasal complaints, including nasal congestion, increased nasal drainage, facial pressure, and nosebleeds. These shared symptoms often delay the initial diagnosis. A multidisciplinary team with varied expertise in this area is critical for the care of these patients, due to the close proximity of the nose and sinuses to other vital structures such as the eye, orbit, intracranial space and brain.
"Here at the University of Pittsburgh and UPMC, the close and collaborative nature of our multidisciplinary cancer care including otolaryngology-skull base surgeons, oculoplastic-ophthalmologists, neurosurgeons, radiation oncologists, medical oncologists, and neuroradiologists has a long history," says Eric Wang, MD. "The UPMC Center for Cranial Base Surgery is the oldest skull base center in North America and has pioneered many surgical treatments for these cancers including craniofacial resection and endoscopic endonasal approaches for the surgical management of these diseases."
CORSICA Consortium
Understanding that collaboration can lead to significant breakthroughs in medicine, faculty within the Department of Otolaryngology at the University of Pittsburgh School of Medicine was one of the first to partner with other leading institutions to form the CORSICA consortium, a collaborative effort to study the molecular genetics, radiological characteristics, and quality of life impact of these Sino-Nasal malignancies.
"Rather than just focusing on traditional disease outcomes such as overall survival, this national consortium strives to comprehensively evaluate these rare cancers from both the physician and patient standpoint," explains Dr. Wang, an Associate Professor and Vice Chair of Clinical Operations.
Like many medical advancements, this started with a philanthropic donation from a family affected by Sino-Nasal cancer. The Cole-Reagins Family Foundation was founded after the death of a family member from sinus cancer and established the CORSICA database to improve doctors' understanding of the long-term outcomes associated with the survival and treatment of these cancers including quality-of-life measures.
Biobanking and Next Generation Sequencing
From these ambitious beginnings, the CORSICA consortium has grown into an extensive biobanking core housed at the well-established Center for Data-Driven Discovery in Biomedicine. When patients undergo surgery for removal of their cancer, they consent to store a portion of the tumor in this biobank where further genomic testing can take place. This was again supported by the philanthropic giving of patients and individuals. Working in this collaborative manner maximizes the robust patient-specific clinical data from the original CORSICA database by combining this with tumor-specific next-generation genomic sequencing data. This has rapidly accelerated the biospecimen-based and translational research in Sino-Nasal cancers, positioning the CORSICA group as a model of future registry development in the study of other rare diseases in otolaryngology.
"Continuing high-level clinical care and translational science to evolve better treatment protocols and innovate new interventions in Sino-Nasal cancer is a passion for me and our entire team," states Dr. Wang. "As you can see from this one example, generous donations can have a tremendous impact on rare diseases like Sino-Nasal cancer."
To stay up to date on future events and news, follow EEF on Facebook, Twitter, and LinkedIn and subscribe to our Sight + Sound Blog. To support the treatment innovations that are improving care, make a donation to the Eye & Ear Foundation.