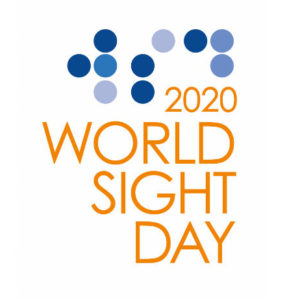 The Eye & Ear Foundation and the Department of Ophthalmology at the University of Pittsburgh School of Medicine invites you to join us in celebrating World Sight Day 2020!
World Sight Day (WSD) is an international day of awareness, held annually on the second Thursday of October, to focus our attention on the global issue of eye health. Globally, more than two-billion people have some form of vision impairment, ranging from myopia and cataracts to glaucoma and age-related macular degeneration.  While World Sight Day focuses on eradicating vision loss for all people, a common goal is to ensure that children worldwide receive proper vision care from a young age.
"World Sight Day is a moment in time for us to remember that EVERY child deserves healthy eyes and normal vision to reach their full potential in life," says Ken Nischal, MD, FAAP, FRCOphth. Dr. Nischal is a Professor of Ophthalmology, Division Chief of Pediatric Ophthalmology and Strabismus, as well as Medical Director Digital Health. "Here at UPMC Children's Hospital Eye Center, part of the Department of Ophthalmology of UPMC, we have developed Centers of Excellence to help every child no matter how complicated or rare their eye condition. For us, it is the child first and always."
Thanks in part to support from Eye & Ear Foundation donors, the Department of Ophthalmology at the University of Pittsburgh has become an international leader in vision care. Combining innovative research, state-of-the-art technology, and world-class clinical care, our physicians are dedicated to achieving our vision restoration goal.
If you would like to help support our research and make a gift in honor of World Sight Day, please donate at https://eyeandear.org/donate.