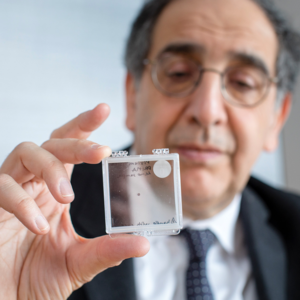 The University of Pittsburgh today announced a collaboration with the U.S. Food and Drug Administration's Center for Devices and Radiological Health to help address the needs of the visually impaired through the expertise, facilities and research of the world-class School of Medicine's Department of Ophthalmology.
Under the agreement, Pitt and the FDA will work together for the next five years on scientific collaborations, educational initiatives and outreach activities designed to address the epidemic of vision loss. As the world's population continues to grow and age, the number of individuals with visual impairments is expected to triple by the year 2050.
"It's really exciting to see this happening. This will put Pitt in a position where we can work with the FDA on the validation of new technological approaches by developing programs and protocols," said José-Alain Sahel, Pitt's Eye and Ear Foundation Endowed Chair of the Department of Ophthalmology and one of the world's top experts in retinal diseases and vision restoration research. "There is strong expertise at Pitt that is being recognized at an international level. Patients' voices will nurture our projects and define the successes we all want to deliver."
"We appreciate this phenomenal opportunity to partner with the University of Pittsburgh. Developing new methods to assess visual impairment and the impact on daily activities is important to helping the FDA better characterize the consequences of vision loss, and also helping FDA to reliably assess the benefit of novel therapies and rehabilitation technologies," said Malvina Eydelman, director of the Office of Ophthalmic, Anesthesia, Respiratory, ENT and Dental Devices in the FDA's Center for Devices and Radiological Health.