Please join us for this lunch and learn webinar presented by Jonas Johnson, MD, Barry Hirsch, MD, and Elena LaQuatra on advancements in cochlear implant technology within the Department of Otolaryngology at the University of Pittsburgh School of Medicine as well as patient perspective.
Dr. Hirsch is Professor of Otolaryngology, Director, Division of Otology/Neurotology, and Program Director, Neurotology Fellowship Program. A board certified neurotologist, Dr. Hirsch is a surgeon specializing in treatment of benign and malignant tumors of the temporal bone and skull base. These areas include the ear canal and middle ear, posterior and middle fossae and cranial nerves. Dr. Hirsch provides treatment via traditional surgery, and also through CyberKnife, a robotic radiosurgery device that minimizes the risk of injury to sensitive tissues.
Elena LaQuatra is a general assignment reporter for Pittsburgh's Action News 4. At the age of four, Elena lost 100% of her hearing in both ears due to bacterial meningitis. After receiving a Cochlear Implant at UPMC Ms. LaQuatra attended the DePaul School for Hearing and Speech in Pittsburgh for four years to regain her listening and spoken language skills. In 2021, she was appointed to The Board of Trustees for DePaul, giving back to the school that once gave so much to her. In her spare time, she serves as Mistress of Ceremonies for fundraising galas nationwide and as an ambassador to numerous non-profit organizations. Elena was crowned Miss Pennsylvania USA in 2016.
There will be a Q&A following the presentation, where Dr. Hirsch and Ms. LaQuatra will be able to answer any questions from our audience.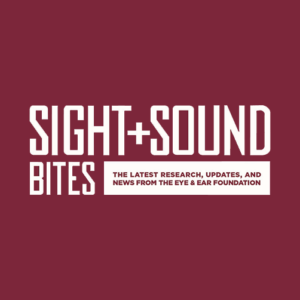 To register for this webinar, visit https://zoom.us/webinar/register/WN_lLHFk6e3QZKb6XQkuXQBlg
Visit https://eyeandear.org/donate to support our research and educational efforts. Please register for the mailing list to stay informed on our research and patient care advances. Should you have any questions please email Craig Smith at craig@eyeandear.org.