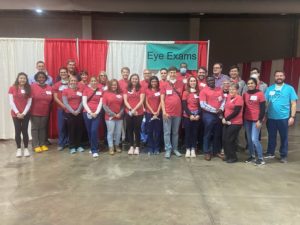 For three years, Mission of Mercy Pittsburgh has hosted a two-day clinic providing free dental care to the underserved members of the community. This year, free vision care was also offered, courtesy of the Department of Ophthalmology at the University of Pittsburgh.
"It was a tremendous, tremendous success," said Lawton Snyder, CEO of The Eye & Ear Foundation of Pittsburgh (EEF), which helped organize the vision clinic on October 22-23, 2021.
It came about when Dr. Jose-Alain Sahel and Snyder were approached by Michael Zamagias, Chairman and CEO of TeleTracking and a founding sponsor of the Mission of Mercy (MOM) dental clinic, who suggested they team up and add a vision component. Unsure as to whether it would work with MOM's overall mission and the large number of patients, it was set up as a pilot project. Since MOM was cancelled in 2020 due to COVID-19, this year was the first joint clinic. Next year there will be a third clinic, with Dr. Jonas Johnson, Chair of the Department of Otolaryngology, committing to add hearing, ear, nose, and throat.
When patients arrived for the dental clinic, they were offered a free vision exam. Of the estimated 1,000 patients seen at the event, a third opted to have their eyes checked. Almost 300 pairs of glasses were ordered, and 100 patients need follow up for more serious vision issues. Appointments were made for dozens of patients at the Eye Center.
"That would mean that we touched the lives of about half of the patients who expected to be seen only for dental services," Dr. Waxman – who coordinated and planned the eye clinic — said in an email thanking 40 volunteers. "Imagine how many people we could reach if we had advertised. This success will help us, and you, in preparing for an even larger scale event next year, and work on local initiatives throughout the year."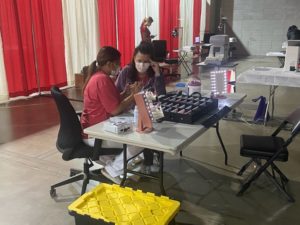 By all accounts, the clinicians, students, and volunteers were enthusiastic, and patients were grateful. One volunteer noted the clear need for vision care and how amazing it was to watch people pick out glasses.
"One gentleman told me he had not had an eye exam since 1987 and did not expect to have one since he was only anticipating dental care," said Dana McGinnis-Thomas, Department of Ophthalmology Patient Navigator. "He was thrilled."
EEF board member Nancy Washington recalled the cheer and kindness shown by the doctors and staff, even after hours of back-to-back examinations. She won't forget the little boy who was translating for his mother who spoke only Spanish. The sight of Dr. Jose-Alain Sahel conversing in French with a woman from Haiti still makes her smile.
Snyder described a 10-year-old boy who had masking tape on the hinges of his glasses. When told he would be getting a new pair of glasses, he was bouncing with joy.
Thanks to EEF donations, the vision clinic had all the needed equipment. Six eye lanes of $34,000 equipment were set up. ZEISS Corporation loaned imaging equipment worth $40,000. Glasses were donated by the Essilor Corporation at Dr. Sahel's request.
There is nothing like helping people who truly need it. "I hadn't felt so good about something in a long time," Snyder said.
Visit https://eyeandear.org/donate to support our research and educational efforts. Please register for the mailing list to stay informed on our research and patient care advances. Should you have any questions please email Craig Smith at craig@eyeandear.org.