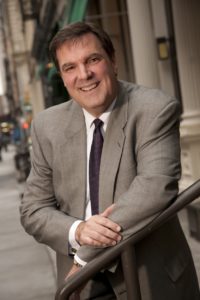 Bruce Gebhardt has joined the EEF Board. He is the co-founder and principal at Pathfinder Capital Advisors, an investment bank, advisory, and investment group founded in 2001 that has closed transactions at more than $15 billion.
He may reside in Tuxedo Park, NY, but his ties to Pittsburgh run deep. He graduated from the University of Pittsburgh with a degree in Chemical Engineering in 1980 and then got his MBA from Carnegie Mellon University four years later. He serves on CMU's Tepper Business School Alumni board as well as the Johns Hopkins Physics and Astronomy Council.
Being very bullish on the renaissance of his native Pittsburgh, he has invested in and mentored various innovative startups in the Pittsburgh area. One of the more prominent is Fifth Season (formerly RoBotany), which operates a 60,000 sq. ft. state of the art indoor vertical farming facility in Braddock, PA. Other investments include Buzz Solutions (AI to identify utility line faults), Boom Supersonic (building the world's fastest aircraft), Blastpoint (AI-driven customer intelligence tools), Copilot (1-on-1 fitness app with dedicated fitness coach), Gridwise (app platform for gig drivers), Lean FM (AI for HVAC), Locomation (autonomous trucking systems), Mach9 Robotics (cutting-edge underground geospatial mapping), sovaSage (Improving treatment of sleep apnea patients, and TalkMeUp (AI powered communication training).
But one of the many charitable endeavors Gebhardt is involved in is what led him to the Eye & Ear Foundation. Vision To Learn – which launched in June 2018 – provides free vision screening and glasses to kids from low-income communities. The organization works with the Pittsburgh Public Schools to ensure that every student has the correct vision to see the board or their book clearly. Gebhardt explains that children cannot tell that they have "bad" eyesight, because they do not know what good eyesight is.
"It is an amazing experience to watch a kid get glasses and realize the new world available to them," Gebhardt says. "No matter how many times I see it, it never gets old."
Through this program, Gebhardt became aware of the critical role of vision in every aspect of life. "When I met Dr. Sahel, it was obvious that he was a special person who was going to be building a world-class vision care organization," he says. "I am thankful and honored that I can be part of the effort through involvement in The Eye & Ear Foundation."
Gebhardt lives with his wife Celeste and two dogs Layla and Izzy, who he says view themselves as the Protectors of the Reign unless they get belly rubs. Their daughter Olivia lives near them in NYC.