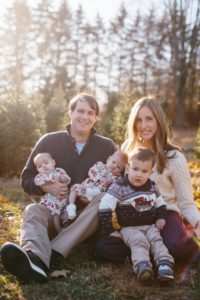 Carrie Fogel may have recently expanded her family by two, but she considers the Eye & Ear Foundation a second family. As if juggling newborn twins and a toddler was not enough, she is EEF's Director of Development for Individual Giving and Foundation Relationships.
In this role, Carrie connects with individual donors and organizations – local and national – and finds ways to align with them to support the work that of the Ophthalmology and Otolaryngology Departments at the University of Pittsburgh. Some of the larger gifts involve complex project structures that are tailored to meet the desires of each potential donor, so Carrie works with EEF CEO Lawton Snyder, the Chairmen, and the faculty to determine what work could best be supported while satisfying the donor's priorities. She also ensures that gifts are stewarded appropriately, that reports are submitted when needed, and that donors understand and feel connected to the impact of their philanthropy.
"I love sharing news about new projects, new breakthroughs, and growth with donors," Carrie says. "It's so exciting to share with people who support EEF that what they have done through their giving is producing results to help people in real ways. We see it all the time. I also love working with faculty and community partners to find synergy in their goals. We've come up with some pretty exciting things so far, and even more to come. Our team at EEF is very good at connecting people, and that is something I really love to do."
Carrie has been with EEF since September 2014. Having grown up in Gaithersburg, Maryland, she came to Pittsburgh in 2005 to attend the University of Pittsburgh and decided it was where she wanted to stay. She took the job at EEF because she was excited for the chance to bolster some important science that could improve people's lives. In fact, working at EEF prompted her to earn her Master's degree in Public and Nonprofit Management in 2018.
"I realized quickly that EEF is a really unique organization in how focused our mission is and am really proud of all the projects we've helped support over the years," she says.
Carrie will never forget the day she and Snyder visited a clinic where a young boy was being trained to use the BrainPort device a few years ago. He was completely blind, and they were there as he used the device to find and pick up a pencil on a table.
"He was able to 'see' using this technology we had been able to fund a pilot study for," Carrie recalls. "It still brings tears to my eyes."
Carrie has enjoyed getting to know the faculty on a more personal level; they have been there for some huge milestones in her life. She also feels fortunate to work alongside amazing people who help people who need it. Having the opportunity to meet with patients on the receiving end of the care and treatments EEF helps fund always reminds her of her purpose.
"I love what I do!" Carrie says. "I have the dream job."