Sofia Maxwell* was frustrated and discouraged. Having lost her vision, she needed medical assistance and in-home services, but was denied several times. She was already a wreck trying to figure out and adjust to her new reality. Her doctor, Andrew Eller, MD, put her in touch with Patient Navigator Dana McGinnis-Thomas, whose diligence ultimately paid off in securing Maxwell the help she needed.
To keep patients from falling through the cracks and to help them benefit from community resources, the position of Patient Navigator was created two years ago. The Eye & Ear Foundation received funding from several donors for the position, in addition to primary support from board member Nancy Washington and support from the Hillman Foundation.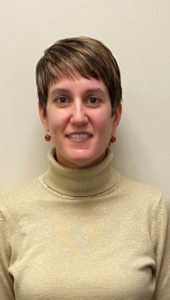 "In my unique role as a Patient Navigator, my goal is to improve health outcomes and advocate for the patients, along with care coordination," says McGinnis-Thomas, who has been in the position for a year (the delay was caused by COVID). "The Patient Navigator role is to support the patients through the obstacles of healthcare challenges while building relationships, solving problems, and encouraging patients as they gain an understanding of the health care system. This is achieved by implementing effective interventions to promote quality health care for all regardless of their health insurance status."
Every day, patients at the Eye & Ear Institute and satellite offices are identified by the providers, triage team, and registration, along with the entire care team. These patients are then provided with valuable resources that will improve their quality of life, like providing transportation options, enrolling in low vision and low-income assistance programs, and assistance in scheduling appointments and completing applications.
"The most critical aspect after providing the resources based on the patient's need is making sure the patient is following through with all scheduled appointments and/or testing and all their questions have been addressed and answered," McGinnis-Thomas says.
Ultimately, she adds, the Patient Navigator position is essential to coordinate the multidisciplinary providers while making sure the patient is achieving the highest quality of care and maintaining the highest quality of life.
In Maxwell's case, McGinnis-Thomas met with her in mid-July to start the application process for PA Medical Assistance and UPMC Financial Assistance. They also connected with the Area Agency on Aging and started the process for the Community Health Choice Program for in-home services. This included three separate interviews on three different days using a three-way call system. They completed ACCESS Transportation enrollment. After being denied twice for medical assistance, they worked with Senator Fontana's office. In October, Maxwell was approved for PA medical assistance.
As Maxwell explains it, prior to McGinnis-Thomas' involvement, she was not getting any responses despite multiple attempts. People kept making mistakes on her applications, which led to the denials. "Dana stuck with it and took note after note on conversations and information, so when people claimed they never got the information or didn't recollect the conversation, she could pull up the dates and times and who she spoke with," Maxwell recalls. "She was absolutely no less than amazing. She kept at it, and when one person could not help, she went to the next person higher up until she got to a place where someone actually did something. It was awesome!"
Maxwell adds that McGinnis-Thomas made her feel at ease and confident that eventually they would figure things out. "She has won a very special place in my heart, and I will never forget," she says.
*Name changed for privacy