Life has a funny way of working out if you let it, Heather Chronis Danek has learned. Twenty-five years ago, she could not imagine not becoming the Managed Care Director of a major pharmaceutical company.
"Now, I can't imagine not being at EEF – changing lives and engaging with the community in a meaningful way brings me far greater joy than I could have ever imagined when I began my career in 1990," she said.
As the Director of Development for Individual Giving and Corporate Partnerships, Heather works closely with individuals coming into our orbit as patients through our clinics or individuals who just happen to love what we support. In addition to patient relations and community engagement (with groups as diverse as the ARCS Foundation and the Carnegie Museum of Art), she supports Department of Otolaryngology alumni. Her clinical areas are CREATES and Skull Base Surgery in Otolaryngology and retina, optic nerve, and the Fox Center in Ophthalmology.
Working in development is a second career for Heather. Previously she worked in biotech pharmaceutical sales and did volunteer work in her off hours. After taking some time off, she had a chance to take a second look at her career. It was then she realized she wanted to do something with her life that had greater meaning in addition to helping people.
"The position at EEF was a great fit, as it combined philanthropy with cutting edge medical research, perfect for someone with my background," she said. She joined the team in August 2015.
Something fantastic happens every day at the Eye & Ear Institute, Heather said, which motivates her to go to work. "Even on those mornings when I want to throw my comforter over my head, I remember that I get to go to work where miracles occur," she said. "If that doesn't get you moving toward the kitchen to make a pot of coffee, nothing will!"
Heather was raised up and down the East Coast and came to Pittsburgh in 1986 when she enrolled at the University of Pittsburgh. She loved the city from day one and has been here since. She and her husband Michael are big travelers. Heather also enjoys reading and being a dedicated community volunteer.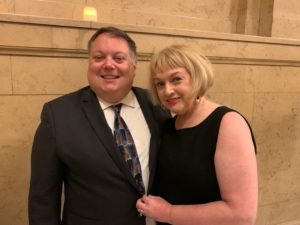 Heather wants to correct a common assumption about her role at EEF. "Often, the perception is that patient relations is something that is reserved for individuals that have given substantially to EEF," she said. "Not true! I help just as many, if not more, patients daily that leave a message saying that they are in a quandary regarding their care. I send each one to the right individual that can help them."