When Kathryn Sedory, a nurse in the UPMC Eye Center's Minor Procedure Room, was asked by co-worker Dr. Jenny Yu-Will to join her on a medical mission trip to Ghana in 2017, her first reaction was, "Of course!"
Her second reaction was to ask, "Where am I going and what am I doing?"
The trip to Ghana was the first medical mission trip by Project Theia, a nonprofit organization started by two oculoplastic surgeons, Dr. Yu-Will and Dr. Katie Duncan, who did her oculoplastic fellowship at the UPMC Eye Center and is now based in the Baltimore area. Theia is the Greek Goddess of sight, so it is apropos that the group is an all-female crew.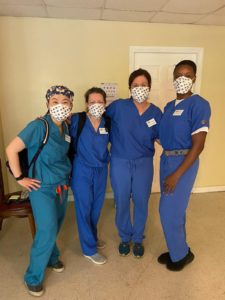 Sedory was so excited to be part of this amazing experience that she did not even think about all the other incidentals like updating her passport, getting a visa and an extra vaccine for traveling to Africa, and taking anti-malaria meds.
Sedory – who scrubs in and assists with the doctors for small procedures – has been with the UPMC Eye Center since August 2008. She began her nursing career at the Eye & Ear Hospital in 1989. She has now been on four medical mission trips.
In Ghana, the crew spent almost a week each in two different towns: Kumasi in the Ashanti Region, and Tamale in the Northern region. They stayed with Dr. Seth Wanye of Friends Eye Center. He is an ophthalmologist, so he was able to evaluate patients who needed oculoplastic procedures. Those patients returned to the office while Project Theia was in town.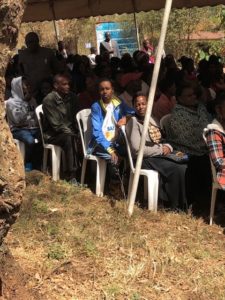 In April 2019, Sedory joined a medical mission trip to Kenya. They stayed at Hekima Place in Kiserian, Kenya, near Nairobi. It is a home for orphaned vulnerable girls, founded in 2005 by Kate Fletcher, a Pittsburgher. While there, the local Rotary International Group sponsored the clinic, which performed eye exams on the locals as well as the girls in the home.
Sedory recalled a memorable aspect of this trip that occurred while doing a visual acuity check. She had to pause it because there was a herd of cattle that passed behind her eye chart, which was taped to a tree. "That certainly isn't something that you see every day!" she said.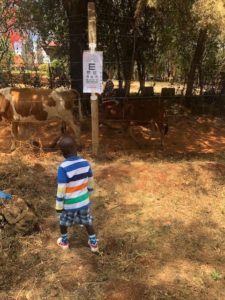 Exams were performed outside in portable tents. The number of patients was well into the high hundreds by the end of the week.
Sedory's most recent trip was to Roatan, Honduras in March 2022. Project Theia went there in January 2020 as well. This time they were joined by another group of doctors and technicians from HealthInSight Mission, based in Lynchburg, Virginia.
Language barriers are always a concern, but there are usually translators available. Sometimes other patients or mission volunteers help translate. Google Translate is also used. In Kenya, the tumbling "E" eye chart was used to check vision. "It's much easier to have someone show you which way the arms of the E are pointing than have them say letters, especially if they can't read," Sedory explained.
Because Project Theia is a nonprofit, they rely on raising money to support their efforts. The majority of the supplies are donated. The next fundraiser is a Dinner in the Dark on May 12.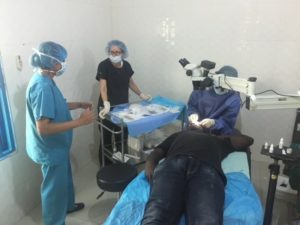 "Everyone is just so appreciative and thankful that we come to do exams, even the ones that we can't help," Sedory said. "It's a very humbling and rewarding experience that I hope to have the opportunity to participate in many times over. As long as I have an up-to-date passport and paid time off, sign me up!"