The University of Pittsburgh Otolaryngology-Head Neck Surgery residency program is doing innovative things to train future surgeons, under the leadership of newly installed Program Director Noel Jabbour, MD, MS, FACS, and Emeritus Program Director Barry Schaitkin, MD, FACS.
When a medical student enters the program, they do not know how to operate. Five years later, they leave as a fully competent and confident otolaryngologist. "That's an amazing metamorphosis that we get to be a part of," Dr. Jabbour says in a welcome video on the PittOto website.
One unique feature about the program is incorporating deliberate practice in surgical simulation very early in the residency experience. This way when residents enter the operating room, they are primed for learning, Dr. Jabbour says. This will lead to improved skills and acceleration of the learning curve. In the later years of residency, they can transition to be more of a teaching resident, passing some of the active hands-on portions to more junior trainees.
"This will have a huge effect in the future in increasing resident confidence, because it's one thing to learn how to do a procedure," Dr. Jabbour says. "It's yet another thing to learn how to teach that procedure to others…It's very important to have practiced those critical teaching skills and to think in a very different way about how we approach our surgical cases."
The new Deliberate Practice Curriculum includes a one-month rotation at the start of the intern year. The five interns spend every day practicing technical skills designed to accelerate their learning as surgeons. Otolaryngologists practice endoscopic, robotic, microscopic, and open surgery, so all these modalities must be covered.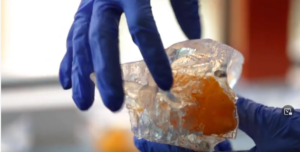 Dr. Jabbour regularly reminds his trainees that in music and athletics, one does not just jump into playing a big game or being on a major stage without robust practice in advance. Through robotics training, surgical skills, and task trainers with 3D printed models created in conjunction with the UPMC 3D Print Lab, residents are prepared when they enter the operating room for the first time.
Another pillar of excellence at PittOto is research, exemplified by the consistently high ranking in funding and academic productivity. The number of resources at the program's disposal means that residents can participate in as much or as little research as they would like. All residents complete two 10-week research rotations during their residency training. The program also has two NIH funded T32 fellowship positions that residents may choose to participate in by taking one to two years away from their clinical training in dedicated research time.
Uma Duvvuri, MD, PhD, Program Director, Head and Neck Oncology Fellowship and Founding Director of Pittsburgh CREATES says in the Research video, "We all collaborate closely with thought leaders in fields of bioethics, biostatistics, research, equity, and health inclusion to really open the resources for our residents to have the best training they can have." Residents also have unlimited opportunities to work across disciplines.
In fact, current residents initiated a collaboration with an alum, Professor Johan Fagan, Department of Otolaryngology Chair at the University of Cape Town. Dr. Jabbour is excited for them to see what it is like to run a residency program, care for patients, and conduct research in a lower resource setting. He hopes this collaborative relationship will continue in the years to come.
PittOto's residency program is also unique because of its new Capstone course, which was created by Drs. Jabbour and Schaitkin to solve two problems. Residency is hard, and they want residents to leave at their best and not burned out. With the addition of six months of otolaryngology in the first year, they figured those residents should be freed up to do something different and unique to them at the conclusion of their training.
The result is a Capstone course, which shifts the start date of every academic year back by six weeks. Instead of everyone switching on July 1, they switch in mid-May. So, a second-year resident becomes a third year, third becomes fourth, and fourth becomes fifth. "All of a sudden, the chiefs look around at each other at the end of their experience and they don't have a rotation to go on because they're on the Capstone course," says Dr. Jabbour. "The Capstone course allows each of our chiefs to design an educational curriculum for themselves, a way to end their residency in a way that allows them to finish strong."
The PittOto's mission statement says that they seek to provide an inclusive learning environment with an unparalleled depth and breadth of exposure to all aspects of otolaryngology. The result is that after five years of training, a graduating medical student may be transformed through this process into the best otolaryngologist they can be.