Since Elaine Ehalt started working for the Eye & Ear Foundation in 2013, her job has grown along with the Foundation. Once part time, she became full time in 2016 and is now the Director of Finance.
"I don't think Lawney and I ever dreamed how much growth would come out of a bookkeeping position that at one time was outsourced by the Foundation," Elaine said.
Handling everything financial means processing gifts from deposits to letter acknowledgements to preparing monthly financial statements and working on annual audit and tax preparations with an external accounting firm. She puts together annual budgets, financial board reports, and works closely with the outside investment firm and coordinates the investment meetings with the committee chairman and the firm. Elaine is also the financial liaison with the Departments of Ophthalmology and Otolaryngology and the University of Pittsburgh.
Previously, Elaine worked for the University of Pittsburgh in 1995 as the business manager for the private practice in the dental school. There, she met her now-husband of 25 years. She transferred to WPIC and remained with Pitt/UPMC for seven years. After raising her children, she wanted to return to the university, and got the job at EEF. Her field of expertise is financial accounting, so it was a good fit.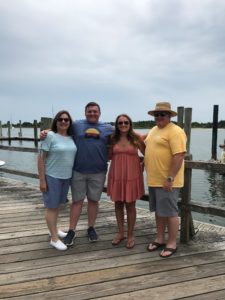 In her spare time, Elaine loves watching sports and camping with her family. She grew up in Forest Hills and attended Penn State, an accomplishment she is proud of. Her husband Mark has worked for UPMC since he was a Pitt student; he just entered his 32nd year. Their oldest daughter Maggie is a graduate from Penn State and is a UPMC Children's oncologist nurse. Their youngest, Alex, is a Pitt student studying biology. "We are truly a house divided between Pitt and Penn State, and we wear that honor with pride," Elaine said.
Elaine calls the EEF team a family, even if they tease her about her Donny Osmond crush. She is an integral member of the team.
"While all of my responsibilities lie within the financial realm, I also know that I am a part of an important mission," Elaine said. "I always strive to do my best to meet the needs of any of our EEF donors if called upon to do so."