The Science and Technology unit of the French Embassy and Consulate visited Pittsburgh June 29-30, hosted by the Eye & Ear Foundation. While there was a specific focus on José-Alain Sahel, MD, and his vision research, the guests learned about our city, its world-class universities, and the future of the region as a powerhouse in healthcare and life sciences.
The UPMC Eye Center has close ties to France. In addition to being Chair of the Department of Ophthalmology at the University of Pittsburgh, Dr. Sahel is Professor of Ophthalmology at Sorbonne University, and Founder of The Vision Institute, Paris, France and still manages several programs there.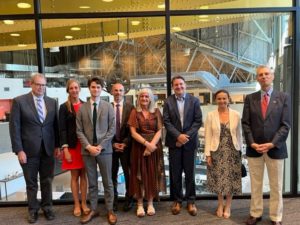 According to Heather Chronis Danek, EEF Director of Development, highlights of the trip included a tour of the French Nationality Room at the Cathedral of Learning with Chancellor Patrick Gallagher, PhD, a cocktail party at the Trimont residence of Carole and Dan Kamin, the Topping Off ceremony at the Vision and Rehabilitation Institute at the UPMC Mercy Pavilion, lunch with Dean Anantha Shekhar, MD, PhD, and Dr. Sahel, a research meeting with the Department of Ophthalmology at the University of Pittsburgh, a tour of BioForge with Richard King Mellon, and a private dinner and tour of the Carnegie Museum of Natural History.
The four members of the delegation were Philippe Arhets, PhD, Director of the Inserm (French National Institute for Health and Medical Research) USA/Canada office based at the French Embassy in Washington DC; Mireille Guyader, MA, PhD, Counselor for Science and Technology, Embassy of France in the United States and Director of Research at the Inserm; Sylvette Tourmente, Director of the CNRS (The French National Centre for Scientific Research) Office for the USA, Canada, and Mexico, in Washington DC; and Julian Muller, MPP, ME, Science Policy Officer, Embassy of France in the U.S.
This visit has increased awareness of the growing importance of Pittsburgh as a hub for research, healthcare, and innovation. Numerous collaborative projects will be conducted between Paris and Pittsburgh.
"The group was thrilled with their two-day visit to Pittsburgh and look forward to coming back in April with the French Ambassador to the U.S.," said Chronis Danek.