Today is José Zevallos' first day as the new Chairman and Eugene N. Myers, MD Chair of the Department of Otolaryngology at the University of Pittsburgh School of Medicine. He comes to Pittsburgh from the Washington University School of Medicine in St. Louis, Missouri. There, he was Division Chief and Professor of Head and Neck Surgical Oncology.
Having amassed two degrees (MD, MPH), Dr. Zevallos chose Pittsburgh as the next step in his career. "The University of Pittsburgh is one of the elite otolaryngology programs in the United States, and the faculty includes several of our specialty's most prominent thought leaders and visionaries," he said. "I was drawn by the opportunity to build upon this remarkable foundation to develop a new standard of excellence in academic otolaryngology."
Dr. Zevallos is looking forward to meeting the people that make the Department strong, including the esteemed faculty, residents, fellows, and staff. "As Chair, I aspire to build innovation and an entrepreneurial spirit into everything we do, whether that be surgical care, education, or research," he added. "We will continue to nurture and support the exceptional programs in surgical simulation, head and neck cancer survivorship, robotics, hearing sciences, and education that already exist within the Department. We will also develop new clinical and research programs focused on improving the lives of our patients, including new initiatives in translational research, head and neck cancer epidemiology, and complex airway surgery."
Born in Lima, Peru, Dr. Zevallos moved to Essex, England for three years when he was a child so his father could pursue graduate studies in electrical engineering. They then moved to the United States, where he spent most of his childhood in New Jersey. He attended Middlebury College in Vermont and returned to New Jersey for medical school, followed by residency training in otolaryngology/head and neck surgery at Baylor College of Medicine in Houston, Texas.
Dr. Zevallos comes from a family of physicians and musicians. His grandfather was a pulmonologist at the height of the tuberculosis pandemic in Lima, and his grandmother sang professionally with her two sisters throughout Peru. He has several aunts and uncles who practice medicine in Peru, the U.S., and throughout Europe. Two of his cousins in Lima are physicians and two are aspiring singers. The oldest of four siblings, his brother Pedro and sister Lizzy work in commercial real estate development in Chicago and New York City, respectively. His brother Eduardo lives with his family in Copenhagen, Denmark, where he teaches computer science at an International Baccalaureate school. His dad is an engineer, and his mom is a retired social worker who spent her career helping Spanish-speaking immigrants get accustomed to life in the U.S.
When Dr. Zevallos was a fellow in New York City, he met his wife, Juliette. She grew up in Texas and works part-time as a French-language flight attendant for United Airlines. Her father is a retired NASA physician-scientist originally from the south of France, and her mother is a retired nurse originally from Chicago. The couple has three children, Elena (10), Jose Miguel (7), and Luisa (3), as well as a golden doodle named Zoey. His kids are carrying on the family musical tradition; Elena plays classical guitar and Jose Miguel loves to sing. Their dad enjoys both.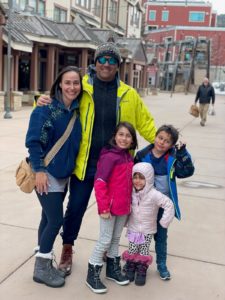 The family loves to travel and visit relatives throughout Peru and Europe. Outside of work, Dr. Zevallos also enjoys skiing and playing golf. They are all excited to explore Pittsburgh.
"We can't wait to catch a Steelers game, check out the restaurant scene, and enjoy the natural beauty of the region," Dr. Zevallos said.