The Vision and Rehabilitation Institute at the UPMC Mercy Pavilion reached a big milestone on June 30. The last beam was placed on the new structure, which was recognized in a Topping Off ceremony.
The momentous occasion started in a tent with about 100 guests and then moved outside to watch the beam being lifted via crane. The beam had an American flag, along with a broom and a tree. These items symbolize a construction project without loss of life.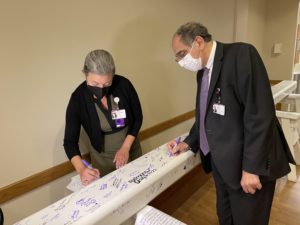 Speakers at the event included Bishop Zubik and County Executive Rich Fitzgerald, along with University of Pittsburgh School of Medicine Dean Anantha Shekhar, MD, PhD, José-Alain Sahel, MD, and John Innocenti, President of UMC Mercy. Multiple Eye & Ear Foundation Board members attended, including Nancy Washington, George Fechter, Larry Gumberg, Gordon Nelson, and Carole Kamin. A delegation from the French embassy also attended as part of their visit.
"We are all so very excited the building construction has reached this milestone," said Lawton Snyder, CEO of the Eye & Ear Foundation. "We are at a point where we can now see the full structure of the building, and more importantly, we can see the infrastructure that Dr. Sahel is building to do the work within the building, of restoring vision."
The project should be completed in April 2023.