At the Eye & Ear Foundation's July 27th webinar, the co-founders of the UPMC Head and Neck Cancer Survivorship Clinic spoke about the head and neck cancer survivorship program. They also talked about data they have collected on patient outcomes and side effects in the talk entitled, "Survivorship: Providing Coordinated Care to Head and Neck Cancer Patients."
Dr. Jonas Johnson, MD, FACS, Chairman Emeritus of the Department of Otolaryngology, and Co-Director of the UPMC Head and Neck Cancer Survivorship Clinic, started things off by describing throat cancer, otherwise known as head and neck cancer (HNC). HNC is really cancer that develops in the throat, sinonasal cavity, oral cavity, larynx, nasopharynx, oropharynx, or hypopharynx.
Dr. Johnson called special attention to the oropharynx. Oropharyngeal cancer is currently the most prevalent. "It's become a bigger and bigger problem, not only in Pittsburgh and the U.S., but worldwide," Dr. Johnson said.
Carcinogens in our (Head and Neck) Environment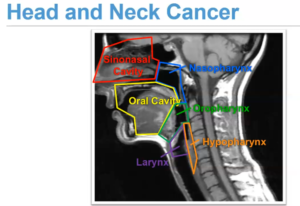 Tobacco affects many parts of the body: the mouth, larynx, esophagus, lung, and bladder. The sun damages the skin. And viruses can result in cancer of the nasopharynx (EBV), skin (Merkel Cell), or oropharynx (HPV).
As Dr. Johnson explained, the cells in the body are always dividing. This means the lining of the mouth and throat are replaced regularly.
Environmental cancer-causing agents seem to play a big role in the development of throat cancer. Historically, tobacco was thought to be the main culprit. "It's only in more recent years that we've come to appreciate the reality that viruses can cause throat cancer," Dr. Johnson said.
The most common cancer in Asia, for example, is the nasal ferns, in the nasopharynx, which is behind the nose. It is caused by the Epstein Barr virus.
Throat Cancer Caused by HPV
Two distinct diseases comprise oropharyngeal squamous cell cancer (OPSCC): HPV- and HPV+. Tobacco does cause something like 50 different mutations, which makes it harder to treat. HPV causes many different mutations, and these two cancers look similar under a microscope. They are both called squamous cell carcinoma, but the causes are different as are the mutations that lead to the cancer.
Throat cancer caused by HPV has been increasing. In the U.S., 65,410 people have been diagnosed with throat cancer. Males tend to get it more than females, with a ratio of 3:1. Typically patients are over 50 years of age. Of that number, there have been 14,620 deaths. The five-year survival rate varies depending on site, stage, smoking status, and P16 status.
About 20 years ago, HPV was linked to pelvic cancer. It took another 20 years to realize that this same virus is tied to throat cancer. Now it is the most common cancer.
Treatment
Can throat cancer be treated? There's good and bad news. HPV-related cancer is easy to treat in that it is easy to cure with over a 90 percent cure rate. The problem is that it sometimes takes surgery or radiation, which are used for small cancers. If the cancer is bigger or associated with lumps in the neck (metastasis) or lymph nodes, then people are commonly treated with surgery and/or radiation – sometimes with radiation and chemotherapy.
People with more advanced cancers can still be cured, but they require more interventions.
Treatment options:
Surgery or radiation
Surgery + radiation
Radiation + chemotherapy
Surgery + radiation + chemotherapy
Late and long-term effects can happen during radiation and continue, or they can start months to years after radiation or treatments are completed.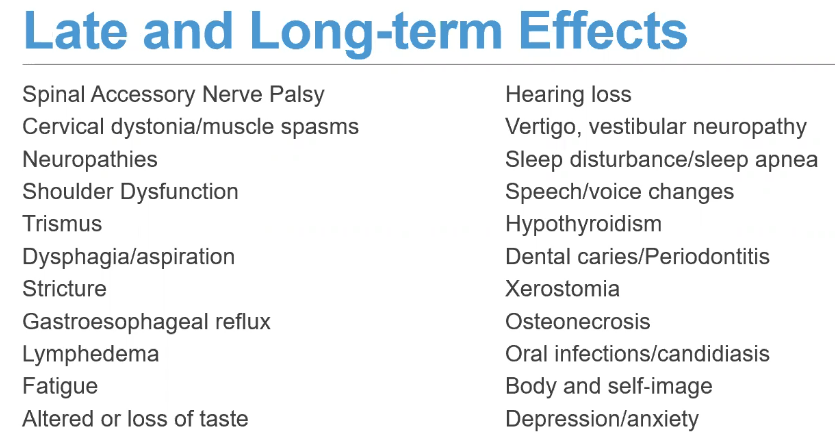 UPMC Head and Neck Cancer Survivorship Clinic
The clinic was established in December 2016 by Dr. Johnson and Marci Nilsen, PhD, RN, CHPN, Assistant Professor at the University of Pittsburgh, School of Nursing, Department of Acute & Tertiary Care, with a secondary appointment in the School of Medicine, Department of Otolaryngology. Dr. Nilsen also serves as the Co-Director of the UPMC Head and Neck Cancer Survivorship Clinic and Director of the Head and Neck Cancer Survivorship for UPMC Hillman Cancer Center.
The clinic is multidisciplinary and includes an audiology assistant, two nurses, a dietician, dentist, surgeon/APP, physical therapist, and speech-language pathologist (SLP). The beauty of this coordination is that it requires only one visit to one clinic with one co-pay. Because patient symptoms cross disciplines, many times it is necessary to work with different groups to come up with the best plan.
Survivorship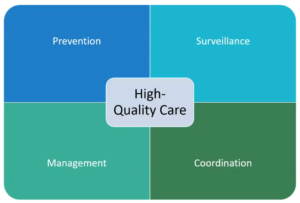 A book published in 2005 reported that patients who complete treatment sometimes feel that transitioning to a more sustained survivorship period – or a period in which there is no longer close contact with providers – can be stressful. People can fall through the cracks or receive fragmented care. As a result, many groups recommended four things to do to qualify for high quality care:
Prevention
Surveillance
Management
Coordination
Management is where the focus has increased; it involves managing symptoms and late and long-term effects. Sometimes this is done by the provider; other times it means coordinating care with additional providers.
In the clinic, patients are given a tablet with questions to engage them and share what they are experiencing. This also helps plan the visit. Patients will be asked about health literacy, quality of life, symptoms of depression and anxiety, swallowing difficulty, neck disability, and sleep disturbance.
Common Treatment Effects
Swallowing or dysphasia is the most common treatment-related effect reported by survivors. Saliva or dry mouth is second, followed by pain. Other common symptoms have remained consistent since the Survivorship Clinic has started its treatment protocol: speech, activity, taste, anxiety, appearance, mood, recreation.
So far, the clinic has seen about 3,500 patients. Some of these patients are seen multiple times, so the figure really equates to about 1,500 unique patients.
Of these patients, 73.9 percent report dysphagia as a symptom, with 50 percent reporting it as a significant issue that impacts them. But when the clinic takes a closer look at questions related to swallowing, these patients score high enough in being worried about dysphagia, so follow up exams could be warranted.
Patients are reporting fewer symptoms until about the six-year mark. At that point, patients start to statistically report a higher symptom burden. This could either be a long-term effect from treatment, or new symptoms that start around this time. Anatomy changes and radiation also changes the skin and musculature. Add aging to the equation. The combination of aging and treatment is probably what results in more symptoms later.
"It's important if you develop these new symptoms to go back and talk to your doctor to re-evaluate your swallowing to see if there's anything we can do to prevent things like aspiration pneumonia," Dr. Nilsen said.
Pain
Thirty percent of patients report some degree of pain that impacts their life or daily activities. The clinic wanted to try to better capture this chronic pain. About 6.6 years after diagnosis, of the 175 patients identified, 45.1 percent reported pain, and 11.5 percent reported severe pain. After adjusting for age, sex, and stage of disease, pain was found to be associated with trimodality treatment.
A multivariable analysis of quality-of-life issues revealed that pain was associated with major depression, anxiety, recreation, and low overall quality of life.
The problem is pain can be anywhere. While it is important to highlight that patients have an issue with pain, that does not provide information about the type or location of pain. The clinic has looked at different types of pain.
Neck Disability
Cervical and upper limb dysfunction are established sequelae of surgical resection and reconstruction. However, there is a paucity of literature examining physical impairments after nonsurgical management. In prior studies, the reported prevalence of neck disability ranges from 33-80 percent. The clinic has two aims:
Determine the prevalence and predictors of neck disability following HNC treatment
Explore the association between neck disability and quality of life
Because there is such a huge range and multiple modalities used, research in this area is difficult. But half of the clinic's patients have some form of neck disability. Pain in the neck can really limit function on a daily basis and could be driving headaches. When broken down, most of the clinic's patients only have mild-moderate pain. But even that pain is important, as 50 percent of our patients report having it. Patients who have non-operative treatment are almost three times as likely to have a neck disability than patients who just have surgery. Compared to surgery alone, if a patient has surgery and adjacent treatment or surgery and radiation, they are four times as likely to have a neck disability. Interestingly, when looking at non-operative treatment vs. surgery and additional treatment, the numbers are not statistically significant.
Patients who have a neck disability have lower physical and psychosocial quality of life. The more treatment patients have, the more likely they are to have a lower quality of life. Does this just happen in isolation? Do they just have trouble with their neck, or are other things clustered together?
Neck Disability and Dysphagia
HNC survivors may develop muscular atrophy, weakness, and contractures from treatment-induced fibrosis. This can contribute to both the neck disability and dysphagia in the form of poor posture, reduced range of motion, trismus, and increased pain.
In studying this, we aim to:
Explore the prevalence of patient-reported neck disability and symptoms of swallowing dysfunction
Examine the relationship between neck disability and symptoms of swallowing dysfunction in posttreatment HNC survivors
Neck Disability and Movement
The intensification of treatment for HNCs has created a cohort of patients living with short-and long-term comorbidities and functional deficits. This study aimed to determine whether there is a relationship between PROs and objective measures of neck function in survivors of HNCs.
Aims:
Explore the prevalence of patient-reported neck disability and symptoms of swallowing dysfunction
Examine the relationship between neck disability and symptoms of swallowing dysfunction in posttreatment HNC survivors
"One of the things I hear commonly with people who have more severe to complete neck disability is that they can't really turn their head to look over their shoulder when they're driving, or they can't really turn to look at the mirror," Dr. Nilsen said. "But there's not a lot of data to show that neck disability and limited range of motion occur together."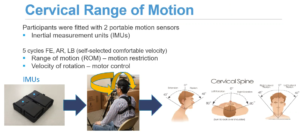 To ascertain cervical range of motion, participants were fitted with two portable motion sensors. Participants rotated, flexed, and extended, which require using different muscles. Their degree of motion was visible, as well as their speed. This was a small study, with just 30 patients.
Next steps include:
Omic variation in post-treatment survivors
Objective measures of fibrosis
Longitudinal progression
Fibrosis and co-occurrence of treatment-related effects
They are working on a paper on neck disability and pain in the neck related to insomnia, which have yet to be associated together.
Hospital Utilization
Does a visit to the Survivorship Clinic keep patients out of the hospital? Prior to COVID, Dr. Nilsen said with survivorship, patients were less likely to be hospitalized over the next year. Hopefully, this is because they are being paired with professionals like physical therapists and SLPs to help minimize symptoms. Staying out of the hospital means fewer co-pays and less risks of contracting things from the hospital.
The other part of survivorship is something that has become more of a recent focus: seeing patients pre-treatment. This is a great time for patients to be educated and paired with people who can help. The goal of this is to see if patients can be kept out of the hospital. Can symptom changes be identified early so they can be addressed and avoid hospital stays?
The number of HNC patients in the hospital each year varies, but surprisingly, patients in Canada and the U.S. undergoing radiation are hospitalized at similar rates.
Side Effects of Treatment
The current standard of treatment of patients with locally advanced HNC is concurrent chemoradiation. For many patients, CRT follows a surgical resection. Although concurrent CRT has improved overall survival, it does result in a high symptom burden for patients. Severe toxicity-related adverse events such as mucositis, nausea, vomiting, and dehydration frequently lead to hospital stays.
"What can we do to really address these symptoms during treatment?" Dr. Nilsen asked. "How can we help you stay out of the hospital?"
Enhanced Care Coordination Initiative
The aim of this initiative is to evaluate the effect of a symptom assessment intervention on hospital utilization for HNC patients undergoing radiation. A nurse navigator and SLP provide bi-weekly symptom assessment and coordination with the oncology team. The study's ultimate goal is to see how symptom assessment intervention can reduce hospitalization.
The goal was to decrease hospitalizations by 10 percent. At UPMC, the historical hospitalization rate during treatment was 25.2 percent. The current hospitalization rate for enrolled patients is 16.8 percent.
The study has 174 patients but needs 250 enrolled.
The top seven symptoms patients complain about during radiation are appetite, dry mouth, fatigue, nausea, pain, swallowing, and taste. With chemo and radiation together or chemo, radiation, and immunotherapy, it is similar, but slightly different: appetite, dry mouth, fatigue, mucus, pain, swallowing, taste.
Symptoms that were not listed had a significant gap from the most prevalent symptoms.
Once the study has 250 patients, many questions will hopefully be answered. Dr. Nilsen just presented in Scotland, where she said that high baseline pain is associated with an increased likelihood of an ER visit and hospital stay. Pain at baseline still needs to be addressed. Stay tuned for the results.
This study will investigate a new model of care that could provide enhanced value to the patient, community, and organization. If this saves the organization money, does that mean more services can be provided to patients?
"Hopefully there will be more investigations like this in the future," Dr. Nilsen said. "One question has always come up: Can we do intervention where we can target the patient and also the caregiver?" Having a loved one go through treatment can be stressful. A lot of patients rely heavily on their caregivers. Can they be better prepared and have their needs addressed as well so that the patient is better off?
"We do think that coordinating care provides benefit to the patient hopefully in terms of quality of life and reducing hospitalization," Dr. Nilsen said.
Bottom Line
HNC survivors have complex physical and psychosocial needs stemming from their treatment. Science must drive clinical practice and public health policy. However, clinical practice can stimulate and generate new areas of inquiry pertinent to the needs of patients.
"We need to better understand those patients now because those with HPV related cancer are living longer being cured of their treatment," Dr. Nilsen said. "We just need a better grasp of when these things are happening, what they happen with, and who they happen to, so we can show a better job of alleviating or mitigating them through potentially physical interventions, like physical therapy or target interventions, or drug interventions to reduce things like fibrosis."
The data the clinic has is helpful because patients see how the clinic's care can show what a HNC survivor's experience is. This leads to better policies related to care. They try to get patients involved as stakeholders, because it helps when doing interventions and trying to improve care. "We have to get your feedback on what we do," Dr. Nilsen said.