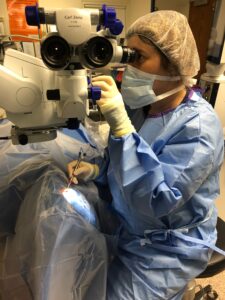 Marie Hélène Errera, MD, PhD, is awaiting IRB (Institutional Review Board) approval for her clinical trial, which will hopefully start in the next couple of months.
The Associate Professor of Ophthalmology at the University of Pittsburgh School of Medicine is conducting a clinical trial on uveitis, an eye inflammation caused by a heterogeneous collection of disorders either noninfectious (autoimmune) or infectious (bacterial, virus, parasitic). The poor visual prognosis associated with uveitis acute, chronic, or recurrent is mostly due to its complications: macular edema, cataract, glaucoma, posterior synechia, retinal necrosis, retinal ischemia, and optic atrophy. Uveitis has a total of 20 major subgroups depending on its cause.
The main outcome of the clinical trial will be to determine the gut microbiotes species associated with different subgroups of uveitis. A secondary outcome is to see if lifestyle has an impact on the uveitis occurrence (diet, smoking, physical activity, obesity, anxiety, sleep, depression, pain).
Another secondary outcome is to determine if the presence of cytokines, chemokines, and hormones in serum have an impact on the uveitis occurrence. Cytokines and chemokines are any number of substances, such as interferon, interleukin, and growth factors, which are secreted by certain cells of the immune system and have an effect on other cells.
To be eligible for the clinical trial, the following criteria must be met:
Participant has any type of uveitis from the subgroups and has no current systemic anti-inflammatory treatment
Participant is willing to provide fecal and blood samples at each clinic visit
Participant is willing to fill the medications (including antibiotics), health, anxiety, sleep, depression, chronic pain, and dietary (food composition and frequency) questionnaires at each clinic visit or by phone
Participants are not eligible if the following criteria is present:
Current diarrhea or infectious gastroenteritis
History of partial gastrectomy or bariatric surgery
Current anti-inflammatory systemic treatment or antibiotics systemic treatment
This is a prospective, case-control study that will last approximately three years, with two years for recruitment and one year for follow-up.
Clinical trial collaborators include Dr. Alison M. Morris (Director, Center for Medicine and the Microbiome), Dr. Rhonda Metter Brand (GI and Nutrition Center), Dr. Barbara Methe (Co-director for Basic Science, Center for Microbiome and Medicine), Dr. Ganguli Mary (Professor of Psychiatry, Neurology, and Epidemiology, University of Pittsburgh School of Medicine, and Graduate School of Public Health), Jong H. Jeong (Professor and Interim Chair of Biostatistics, University of Pittsburgh), Dr. Kunal Dansingani (Associate Professor of Ophthalmology), Dr. Anthony St. Leger (Assistant Professor of Ophthalmology and Immunology), and Dr. José-Alain Sahel, Ophthalmology Department Chair.
Interested patients can contact Dr. Errera at erreram@upmc.edu or Rhonda Dahlstrom, Clinical Trials Coordinator, at dahlstromrj@upmc.edu.