Wiegand Entrepreneurial Research Award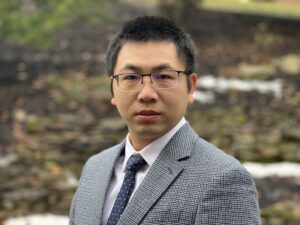 Shaohua Pi, PhD, is the winner of this year's Wiegand Entrepreneurial Research Award. His project, "Develop real-time retinal oximetry towards the commercialization of visible-light optical coherence tomography," was awarded the full requested amount of $99,697.
Eye & Ear Foundation Board member Bruce Wiegand and his wife Barbara created this award to help advance University of Pittsburgh Ophthalmology and Otolaryngology research that shows promising chances of commercialization.
Dr. Pi is an Assistant Professor in the Department of Ophthalmology who is an expert in Optical Coherence Tomography (OCT) for eye imaging. He leads the Pitt OCT Lab to advance the technique further to benefit ophthalmic research and the clinic.
Visible-light optical coherence tomography (vis-OCT) can visualize the eye and retina in great detail in humans and rodents, Dr. Pi explained. In addition, the major benefit making it unique over standard OCT systems is its capability to measure the blood oxygen saturation level in retinal vessels. This makes it possible for early diagnosis of retinal diseases such as diabetic retinopathy (DR), age-related macular degeneration (AMD), and glaucoma.
To explore the commercialization possibility for retinal oximetry and vis-OCT, Dr. Pi previously developed an algorithm to automate the measurement and recently enabled retinal capillary oximetry. While these innovations are groundbreaking and set the milestone for commercialization, some challenges must be addressed before moving forward.
One problem is that OCT users usually do not have an engineering background and are without post-processing skills. This means software with functions of real-time retinal oximetry measurement and visualization will be essential for the vis-OCT system.
"This project will develop these modules and thus unlock retinal oximetry for ordinary users to readily appreciate oxygen distribution maps and the corresponding responses to regulations and diseases," Dr. Pi said.
Dr. Pi is a member of the Society of Photo-optical Instrumentation Engineers, the Association for Research in Vision and Ophthalmology, and the American Association for the Advancement of Science. He is also the recipient of awards from Knight Templar Eye Foundation, Alcon Research Institute, and Bright Focus Foundation.
Joel Smalley Award
Fuyun Bian, PhD, and Mishal Rao, PhD Candidate, are the recipients of this year's Joel Smalley Award. The award was created by Joel Smalley in honor of his fraternity brother and longtime friend Louis Fox. Fox is an Eye & Ear Foundation Board member and helped create the Louis J. Fox Center for Vision Restoration, which is part of the Department of Ophthalmology at the University of Pittsburgh School of Medicine.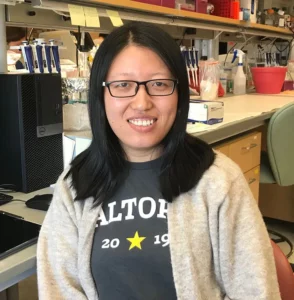 Dr. Bian began her postdoctoral training at the University of Pittsburgh in Dr. Issam Al Diri's lab in September 2019. Her research is focused on elucidating transcriptional regulatory networks that control retina development, as well as how chromatin structure is involved in regulating gene expression in the process. The project has also received a travel grant from the Retina Research Foundation.
Mishal Rao is a fourth-year PhD candidate working in Dr. Kun-Che Chang's lab. She is a graduate student in the Integrative Systems Biology program. She uses an experimental mouse disease model for optic neuropathies and retinal organoids to understand the regulatory mechanisms of gene therapy in neuronal regeneration. Her research aims to provide therapeutic strategies to promote vision restoration after retinal ganglion cell loss.
The award is used for travel expenses to attend conferences.
Zola Gold Award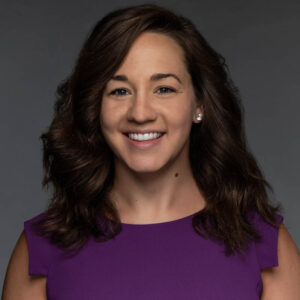 Ali Lewandowski, MA, CCC-SLP, has been chosen by Dr. Libby Smith, Director of the Voice Center, to receive this year's Zola Gold Award. This award was established with the Eye & Ear Foundation in honor of Mr. Zola Gold by his family and is meant to support somebody doing research in the UPMC Voice Center.
Lewandowski is a voice specialized speech-language pathologist who became an Assistant Professor and the Director of the Communication Science Undergraduate Program at the University of Pittsburgh in 2021. She has a special interest in those affected by a neurological voice disorder called Spasmodic Dysphonia, also known as Laryngeal Dystonia. More specifically, she became interested in how the Voice Center can best support people who are faced with a chronic condition that affects how they communicate daily. While a lot is known about how to treat the symptoms of Laryngeal Dystonia (repeated Botox injections), very little is known about how individuals cope with the disorder and all that comes with it.
Lewandowski, along with Dr. Jackie Gartner-Schmidt and Dr. Smith, created a questionnaire and grouped it together with various previously established standardized surveys to create a database of information relating to coping, stress, perceived vocal handicap, vocal congruency, and more, of over 100 patients with Laryngeal Dystonia. The project, titled, "Coping Strategies of Patients Diagnosed with Laryngeal Dystonia (LD) With or Without Essential Vocal Tremor (EVT)" was accepted as a podium presentation at the Fall Voice Conference this month in San Francisco. The team will continue to analyze the data for eventual publication. Lewandowski will use the award to significantly support her travel to the conference.
In other award and recognition news, the Siciliano Lecture is October 11. Established in 2005 by Huberta Siciliano, the lectureship honors her late husband and recognizes the need to advance head and neck cancer research. The 2022 Lecturer is a University of Pittsburgh alum, David M. Cognetti, MD, FACS. He is the Herbert Kean, MD Professor and Chair of the Department of Otolaryngology – Head & Neck Surgery Sidney Kimmel Medical College/Sidney Kimmel Cancer Center, Thomas Jefferson University. He is also the president of the Pennsylvania Academy of Otolaryngology – Head and Neck Surgery. His topic will be "New and Old Treatments for Oral Cavity Cancer."
Coming up next month is the 2022 Muse Prize and Award, which celebrate excellence in Ophthalmology. The Muse Prize honors world leaders in research and advancement of care for Ophthalmology. This year's Prize recipient is John Dowling, PhD, The Gordon and Llura Gund Research Professor of Neurosciences Emeritus, Harvard University.
The Muse Award honors a regional leader for innovation and service in Ophthalmology. This year's recipient is Joel Schuman, MD (former Chair of Ophthalmology at the University of Pittsburgh). He is the Elaine Langone Professor of Ophthalmology, Department of Ophthalmology at NYU Grossman School of Medicine, and Professor, Department of Neuroscience and Physiology at NYU Grossman School of Medicine.
The Muse Lecture and Ceremony will take place on November 17, 2022.