The Eye & Ear Foundation welcomes Elena LaQuatra as its newest Board Director. She is familiar with the Foundation and the Department of Otolaryngology because she is a 100 percent deaf in both ears and hears with the help of a cochlear implant. She is also a popular morning traffic anchor and noon news anchor for Pittsburgh's Action News 4.
"In my very first experience working with the Eye & Ear Foundation more than a decade ago, I instantly recognized the tremendous efforts that were making a profound difference in the lives of so many," LaQuatra said. "Being profoundly deaf and hearing with a cochlear implant myself, the mission of this organization aligns directly with what I'm most passionate about. I'm honored to join the Board of Directors and thrilled to continue my philanthropic efforts with this longstanding Pittsburgh institution."
Born and raised in Mt. Lebanon, Pennsylvania, LaQuatra lost her hearing in both ears at age four due to bacterial meningitis. Just before she turned five, she received a cochlear implant in her left ear. She attended DePaul School for Hearing and Speech for four years to regain her listening and spoken language skills.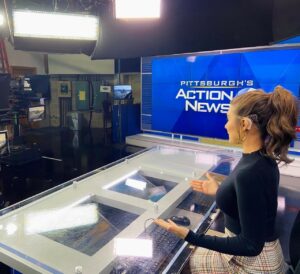 Her senior year of high school, LaQuatra realized she had a knack for talking and writing, both skills necessary to be a good journalist. After graduating from Point Park University with a degree in broadcast journalism, she joined WTAE in 2015 as a digital content creator for 4the412. After a reporting and anchoring stint in Erie, she returned to WTAE for a general assignment reporting role in 2018. She was promoted to her current role in December 2021. Despite the 1:30-2:00 am wake up call, she loves what she does.
LaQuatra has an accomplished pageant history, having won Miss Pennsylvania's Outstanding Teen in 2007, Miss Pennsylvania Teen USA in 2010, and Miss Pennsylvania USA in 2016. In her spare time, she serves as emcee for fundraising galas nationwide, and as an ambassador and advocate for nonprofit organizations.
In January 2022, LaQuatra married husband Jordan. According to her WTAE website, her greatest passions include mentoring young women, traveling to Europe, and spending time with her family and dogs.
"I have known Elena from the time I started at EEF, and she was still in high school," said EEF CEO Lawton Snyder. "I have always seen Elena as a testament to what the EEF is all about. We want to continue to advance technology to give everyone the opportunity to thrive, despite their loss of hearing or vision. We are very excited that she is joining the EEF Board of Directors."
LaQuatra shared her cochlear implant experience in an EEF webinar entitled "Cochlear Implants: Candidacy and New Developments" with Drs. Johnson and Hirsch.