The Department of Otolaryngology at the University of Pittsburgh School of Medicine has a unique center called Pittsburgh CREATES (Collaborative Research, Education And Technology Advancement in Surgery).
Pittsburgh CREATES Medical Director Uma Duvvuri, MD, and Director, Norman Gottron, MBA, talked about its origins, accomplishments, and goals in the Eye & Ear Foundation's September 23rd webinar entitled, "Pittsburgh CREATES: Innovation in Surgery."
Medicine of the Future
Patients want quicker recovery, smaller incisions, and less downtime, said Dr. Duvvuri, Professor of Otolaryngology at the University of Pittsburgh School of Medicine who specializes in Head and Neck Oncology and is the Director of Robotic Surgery. This requires technological innovation and a translation to patient care. A partnership between science and industry will help make it happen.
"As we all know, medicine is a field of constant evolution," he said. "We can continue to strive to do better for our patients today than we did yesterday."
Having the best robot or the best technology that is just locked in a lab and does not get to the patient's side is an endeavor in futility, Dr. Duvvuri added.
Robotic Surgery
A better term for robotic surgery is robotic-assisted surgery, where the robot is a surgical aid/tool. The surgeon uses the robot to manipulate tissues. This kind of surgery was initially designed to improve care in combat situations.
Many patients think robotic surgery means a robot is doing the surgery independently of a surgeon. This is not the case.
A robot used in robotic surgery is the daVinci robot, which has two parts. The patient side has arms that allow the surgeon to perform the surgery. There is a separate console at which the surgeon sits. This is called a master-slave system. This technology was funded by DARPA and the Department of Defense. The concept was to have a surgeon sitting at the console in a medical center within a combat situation, with the remote controlled arms deployed to various battlefield terrains.
The modern workforce does not really do remote surgery, though in some sense it is still remote with the surgeon operating feet away from the patient – not as far removed as in army surgery.
daVinci Development
When this technology was introduced into the civilian space, people thought it would be useful in cardiac surgery. What if you could sew small blood vessels of the heart together without having any tremor? What quickly became apparent was that this robotic system – while not having any tremors – also did not have good tactile sensation. This made suturing extremely small vessels difficult.
Inderbill Gill, MD, and Vipul Patel, MD, recognized that one of the strengths of the robotic system was the ability to triangulate instruments towards a particular point to do precise surgery in a relatively small area. Since they were urologists by training, they used it to operate on the prostate. This was successful because tactile feedback was not necessary – just precise motion of the instruments to separate important nerves.
Why Use a Robot in Surgery for the Head & Neck?
Robotic surgery allows for dexterity in hard-to-reach areas. This results in tremor reduction, improved visualization, and wristed instrumentation.
Trans-oral robotic surgery (TORS) developed from the idea that tremor reduction could aid laryngeal surgery. While reduction of tremor was good, access was poor, and instruments were too large.
With collaboration and an open mind, the technology was improved. TORS received FDA approval in December 2009.
TORS
Conditions that TORS can be used for include oropharyngeal cancer, obstructive sleep apnea, and refractory patients. Oropharyngeal cancer is one of the few tumors with increasing incidence, with 30,000 new cancers/year. Obstructive sleep apnea affects up to 9 percent of women and 24 percent of men.
Getting access used to mean a huge operation. No longer.
Pittsburgh started doing TORS in September 2008, with the first cases performed in March 2009. In the old days, patients had to stay in the hospital for 10 days, but now it might only be two. Bigger and more advanced tumors are now being tackled.
Scientific Leadership
The UPMC group has published many papers on robotic surgery and conducted clinical trials. They have also lectured nationally and internationally.
Limitations with Current Robotics
There are several limitations with the current robotics, like the large size and very high cost ($2.1 million), and maintenance. Access is also an issue, since other surgeons use the same device.
It was necessary to think about better ways to do the surgery. Developing novel instrumentation like a single port tool for advanced robotic surgery meant collaborating with the Robotics Institute at Carnegie Mellon University.
"No academic institution has the financial resources to truly take a device from concept to patient," Dr. Duvvuri said.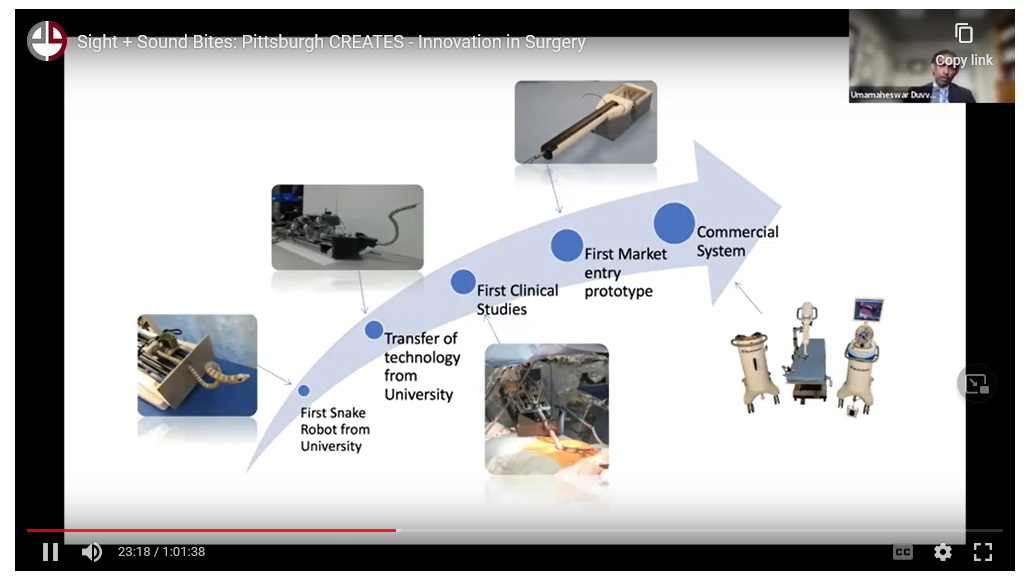 He worked with Medrobotics to develop a snake robot. It took a good 5-6 years to get it to market, which is a typical timeline.
Pathways to Approval
If approval is being sought for a predicate device, less groundwork is required, and safety data is presumed to be incremental. This path was chosen to justify to the FDA that this flexible, robotic arm was not different from other robotic arms that existed.
As Dr. Duvvuri went through the process, he realized how organic it was to collaborate with companies and scientists. There was no centralized processor or institute that allowed them to do this work; he was lucky to identify the right people and be at the right place at the right time.
This led to Pittsburgh CREATES – a central process to house a collaborative institute. It is multispecialty, with otolaryngology as the leader, including hepatobiliary, thoracic, and neurosurgery. The cross-fertilization platform ensures quick commercialization.
"This institute allows us to put the right surgeons in front of the right corporate sponsors at the correct time to facilitate the collaborations so we can do this in an efficient and transparent fashion," Dr. Duvvuri said.
Overview of Pittsburgh CREATES
Prior to joining CREATES, Norman Gottron worked at Carnegie Mellon University in the Claire and John Bertucci Nanotechnology Laboratory and founded a consulting company that connected a variety of external clients to the resources available at shared lab facilities in the Pittsburgh area and beyond. He gave an overview of CREATES, which was established in 2017 as "an industry facing surgical innovation center."
Stakeholders are surgeons, healthcare professionals, scientists, engineers, and industry experts.
The mission is to:
Enable novel research initiatives that enhance quality of care and accessibility
Shorten the learning curve for healthcare professionals by providing spaces for surgical education
Promote the development and use of procedure-based technology with industry partners and innovators
CREATES was established largely through the generosity provided by the Eye & Ear Foundation and is a collaboration with Pitt and UPMC. "We really sit at the intersection of those institutions," Gottron said. Rounding out the leadership is Dr. Carl Snyderman as co-medical director.
"What really drives our success is our stakeholders," Gottron said.
In the past several months, CREATES has had the opportunity to really evaluate some of its successes and refine and further flesh out the mission statement.
CREATES' Facilities
CREATES is housed on the first floor of the Eye & Ear Institute and features two surgical labs. It houses a wet/dry lab space and simulated OR. It is certified for cadaver labs/biologic specimens. The specialty-agnostic space supports education and tech development. The central location allows for easy access to campus animal labs and other resources.
Vision
Pittsburgh CREATES will pioneer a new age of surgical innovation as a premier collaborative center and "think tank" for advancing technology that bridges the gaps between healthcare professionals, scientists, engineers, and innovators.
CREATES will be known for:
Leveraging the unique strengths of Pitt and UPMC to develop our own intellectual property in the space
Building relationships among surgical innovators that expand our influence in the Pittsburgh region and beyond
Seamlessly interacting with industry partners and startups on projects from start to finish, delivering high-value wins for our collaborators
Adapting to emerging trends in surgical technology and leading innovation in the field
Democratizing healthcare technology and bolstering accessibility to underserved populations
Co-developing innovative surgical technologies that improve patient outcomes and quality of life
Areas of Focus
Areas of focus are as follows:
Medical robotics
Digital health (telehealth, telemedicine)
Surgical cognition
VR
Visualization
Machine learning
AI
Augmented reality
Surgical Video Database Project
With so much data all around us, what data should be collected, how, and then what should be done with it? These questions led to this project; the objective is to build a dataset of more than 3,000 full-length, high quality laparoscopic surgical videos and match them to metadata.
The database will be used in training, education, and research:
General training/curriculum development
Quality improvement
AI/machine learning projects
The projected results are shorter learning curves, standardization, and improvement of post-op outcomes.
Creating an AI-Based Decision Support Tool
This is another CREATES project. There are three phases, and it is currently in Phase 1. A laparoscopic visualization system will be developed with the following key features/capabilities:
Real-time monitoring of performance
Insight on optimal use of tools
Surgeon guidance
Expected outcomes are standardization of procedures, reduction in variability, better patient outcomes, and less OR time.
Surgical Cognition Study
EEF helped obtain a grant for this study that will expand CREATES' impact beyond the Pittsburgh region. In a partnership with Parkview Hospital in Fort Wayne, Indiana, the scientific goals are:
Measure variations in care for lap choles
Establish new metrics for video evaluation of surgical performance
Correlate measures of neurocognitive function/skills with surgical performance
Explore new measures of surgical performance
Expected Outcomes:
Identify students and physicians with greater aptitude for surgery
Develop improved, standardized training methods
Improve surgical performance and post-operative outcomes
Deploy technology to improve access to these methods
Neurocognitive Testing – Evaluation of Surgical Raw Skills
The goal is to correlate tests/skills with surgical performance. Tests of neurocognitive function include pattern recognition puzzles, Lumosity brain games, and timed completion of a jigsaw puzzle. Tests of surgical skills include VR simulation of laparoscopic tasks and an endoscopic chicken wing dissection.
Score on Lumosity tests of spatial reasoning and selective/divided attention significantly correlated with time to open incision on chicken wing. The low performer has much more erratic movements, does not really seem sure where to put the instruments, and is more tentative. The high performer's movement is much smoother, more confident, careful, and efficient.
New Tools for Assessing Surgical Performance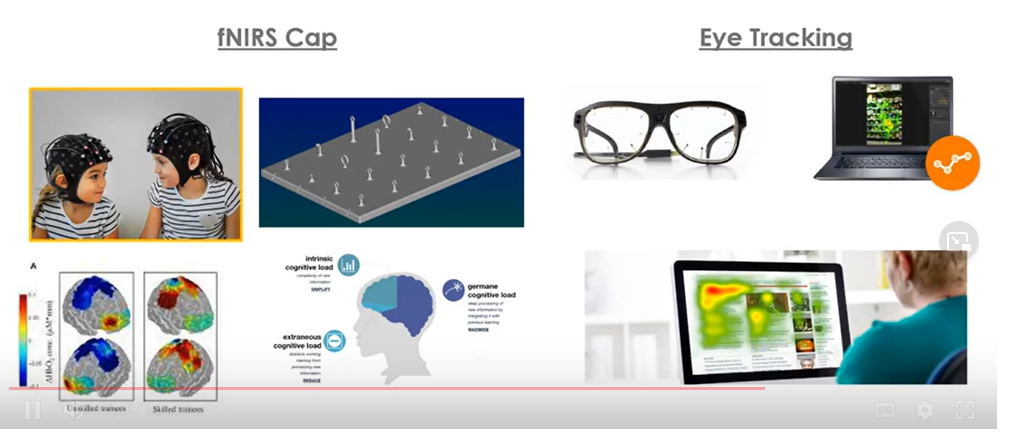 The fNIRS Cap has service electrodes that use infrared light to measure blood flow to the brain. It can create maps of the regions of the brain that are being activated, which can be mapped to neurocognitive function during a simulated screen surgical task.
Eye tracking technology can show what an experienced vs novice surgeon is looking at during a surgical task. Similar studies were done on fighter pilots. Novice fighter pilots frantically look around and take in a lot of different information, whereas experienced fighter pilots tend to look only for the information they need, and they know exactly where it is located.
"Through this technique, we can really measure and quantify what a surgeon is looking at and what visual information is important," Gottron said. "The hope is to find novel ways to evaluate surgical performance and put them to use to create new training and educational initiatives."
What's Next?
More robots!
Continued emphasis on system-level innovation
Increased focus on adjacent tech
The UPMC system has about 26 daVinci systems. CREATES works with surgeons on the forefront of technology who have experience on many different robotic platforms. They can really act as key opinion leaders in the industry.
"It is unlikely that robotics is going away anytime soon," Gottron said. As an example, he said there were six or eight robotic companies represented at the Society of Robotic Surgery Conference prior to the pandemic. This past summer, there were around 20.
CREATES on the Cutting Edge of Surgical Technology
CREATES will be known for:
Building relationships among surgical innovators
Adapting to emerging trends
Democratizing healthcare technology
Bolstering accessibility to underserved populations
Improve patient outcomes and quality of life
"There is always innovation to be had," Gottron said.