The Ophthalmology Department at the University of Pittsburgh School of Medicine has engaged in a very ambitious program involving artificial intelligence (AI) in patient care.
"We believe that this can improve the quality of care as well as the decision making and follow-up," Dr. José-Alain Sahel, Department Chair, said at the beginning of the October 6th webinar hosted by the Eye & Ear Foundation titled, "Future Directions in Artificial Intelligence for Eye Diseases."
The team is growing and supported significantly by EEF, Dr. Sahel added.
What is Artificial Intelligence?
Jay Chhablani, MD, Associate Professor of Ophthalmology at the University of Pittsburgh School of Medicine and a vitreo-retina specialist, defined artificial intelligence. It is a machine's ability to perform cognitive functions as humans do, such as perceiving, learning, reasoning, and solving problems. Now we are expecting the machines to make our lives better and more efficient.
How AI is Impacting Our Lives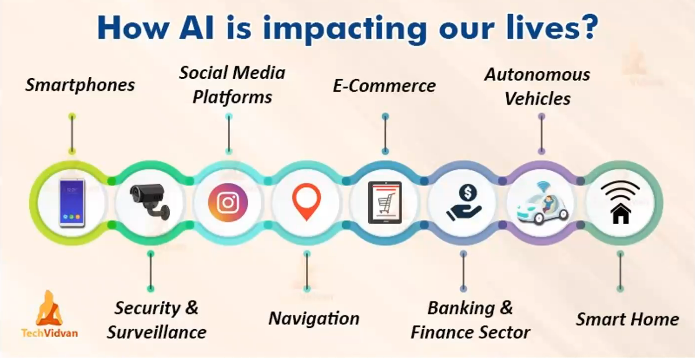 AI in Ophthalmology
Ophthalmology is unique when it come to the application of AI:
Window to the body
Multimodal imaging
Advances in imaging
High resolution imaging includes adaptive optics, where individual cells can be seen.
AI Research at UPMC
Kiran Vupparaboina, PhD, Research Assistant Professor of Ophthalmology, said UPMC has been working on developing multiple AI models to detect eye disease. They have developed data management software, which has all the information in one place to develop different models.
One important aspect is to have a good quality image to train the model. So, data quality assessment is also being utilized.
Future Directions at UPMC
Predictive analysis framework means they can now quantify various biomarkers, which helps predict disease progression. Dr. Chhablani said they are working on multiple projects where they will be able to predict whether dry macular degeneration will convert to wet macular degeneration, if it progresses, and how it is going.
"This kind of predictive analysis is going to help us offer much more advanced treatment, like gene therapy, and help us avoid vision loss," he said.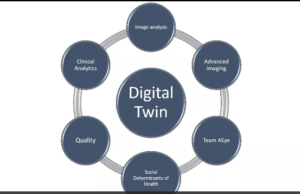 An important project with Dr. Sahel is the Twin-Eye Project. This continuous learning process is learning from a patient and taking that data to apply to the next patient.
Hospital Without Bounds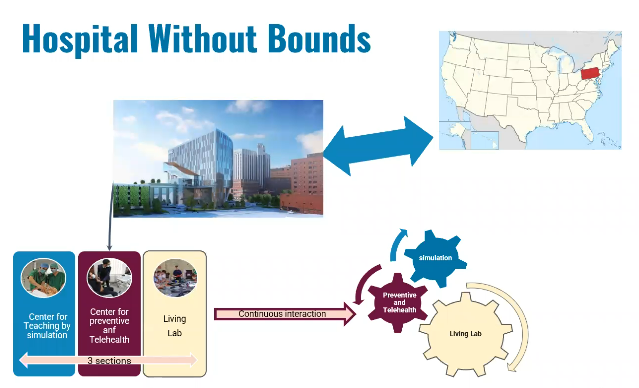 Not everyone will be able to come to the new Vision Institute, but this larger population will be helped thanks to the telemedicine Digital Twin. They will collaborate with the Center for Preventative and Telehealth. Merging all of this will allow patients to be treated virtually.
"This is a project that EEF has taken a lot of interest in," said Carrie Fogel, EEF Senior Director of Development, Corporate and Foundation Relations, and the host of this webinar. "When Dr. Sahel first arrived here, it was something that we worked hard as a team to understand. The implications it has for medicine were exciting. I know we are on the forefront of this exciting technology and using it in a clinical setting is really promising."