A partnership between the Department of Ophthalmology's outreach missions, a grant from the Henry L. Hillman Foundation, and the Eye & Ear Foundation has resulted in a new position: Community Service Coordinator. Fresh from Los Angeles, Katie Cecconi started in the role in September.
According to Ophthalmology Chair Dr. José-Alain Sahel, Cecconi will keep things organized, running, and eventually expand the Guerilla Eye Service (GES) and other types of missions each year like Mission of Mercy. As the point of contact for all community sites, patient referrals through GES and community services, she will be tracking these patients to ensure follow up care has been established, correct diagnoses have been documented, and monitor compliance in patient follow up care. Additionally, she will work with the community diabetic program and Dana McGinnis-Thomas, Patient Navigator to help patients overcome financial obstacles.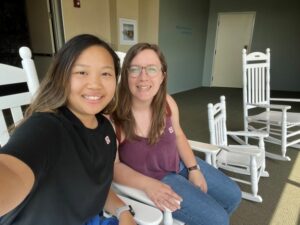 Cecconi – who moved to Pittsburgh because her partner is getting her master's at Carnegie Mellon – wanted to find a local position that was supporting the Pittsburgh community and lined up with her public health background. Once she heard about this position and read about the work the GES has been doing for over a decade, she knew she wanted to be part of the team.
"I love that this department and the EEF are so fiercely dedicated to providing equitable access to health care for people who have historically been marginalized and underserved," Cecconi said. "Moreover, I love that they're doing their best to make it sustainable and in partnership with established, connected community organizations."
"She has already been instrumental in our few most recent missions and is going to be a valuable addition to our team and missions in the near and far future," Dr. Sahel said.
Cecconi has found that there is an incredible commitment to the community outreach programs, "not only among med students or a few physicians, but truly throughout the department, which is particularly impressive when you consider how much everyone already has on their plates."
Dr. Sahel, Dr. Waxman, the Foundation, and others have big ideas about new projects and new ways to partner with and support the Pittsburgh community. "My goal is to provide the coordination and support that's needed to get these projects off the ground so we can expand our ability to provide high quality care to those who need it," she said.
As a Southern California native, Cecconi is terrified at the thought of having to drive in the winter but is loving the fall colors and the chance to wear mittens for the first time. She loves taking walks around the neighborhood and playing pickleball on the courts at Frick Park.