In the Eye & Ear Foundation's February 23 webinar, EEF CEO Lawton Snyder provided an overview of the impact the EEF has made to advance care over a span of 13 years.
Lawton Snyder's Background
Snyder joined EEF in late 2009. He is not a physician, nor is he an audiologist, but he is married to one. He was a clinician and scientist, but not for eyes and ears. He used to be a hospital administrator. Now he is responsible for raising support for research for vision, hearing, voice, balance, and cancers of the head and neck at the University of Pittsburgh.
"Everything we do at the Foundation is based on relationships," Snyder said.
One of the first people he met was Thanos Tzounopoulos, PhD, Director of the Pittsburgh Hearing Research Center, who explained what he wanted to do. Through EEF, Snyder helped make it happen.
Developing a Cure for Tinnitus Timeline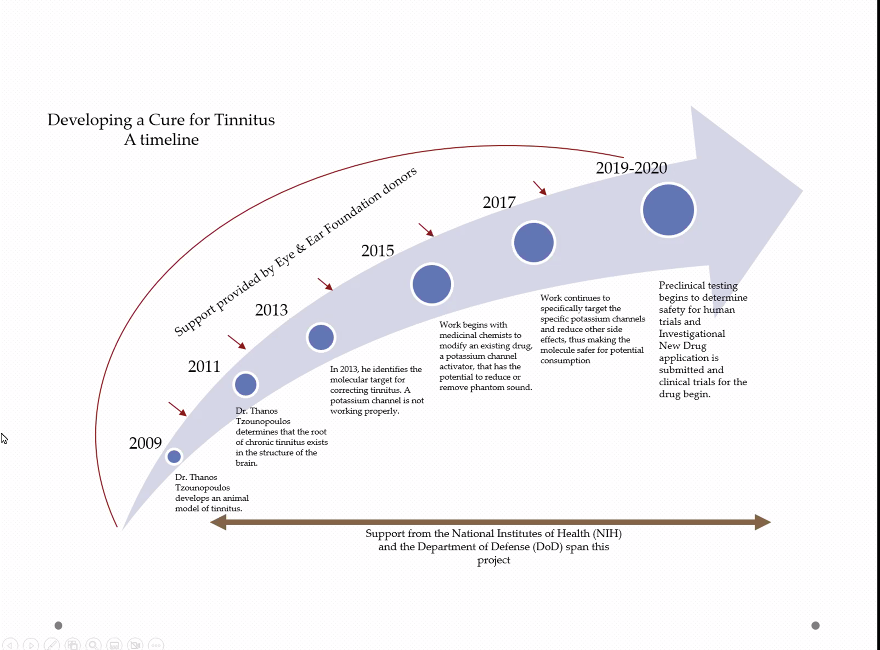 A Chance to Impact Blindness from Scarred Corneas
The Funderburgh Project was created, using corneal stem cells. In the Corneal Cell Biology Laboratory, overseen by James Funderburgh, PhD, the team worked on:
Stem cell biology
Stem cell therapy of scarred corneas
Bioengineering of corneal tissue
When Snyder heard from Funderburgh about this work, he knew this was the kind of work that people want to support. He helped get funding from the Western Pennsylvania Eye Bank, which led to the first clinical trial of autologous stromal stem cell for corneal scarring. For the first time, he got to see the impact that EEF could have.
In 2016, Dr. José-Alain Sahel, MD, joined the Department of Ophthalmology as Distinguished Professor and Chairman, and EEF Endowed Chair. Dr. Sahel was immediately impressed with Dr. Funderburgh's project but felt there was a great need to make this available to patients in the U.S. and around the word. Dr. Sahel's breadth of experience in getting new therapies through the FDA process and into the commercial market is exactly what this project needed.
The Funderburgh Project now has a Cornea Task Force and support from the Western PA Eye Bank, Mr. Gerard Moufflet, Henry L. Hillman Foundation, and many individual donations. Sadly, Dr. Funderburgh passed away, so he will not see his legacy fulfilled, Snyder said, but it is absolutely cemented.
Pittsburgh CREATES
CREATES – Collaborative for Research, Education and Technology Enhancements for Surgery
Brainchild of Drs. Uma Duvvuri and Carl Snyderman
Initial funding by local Pittsburgh Foundation provided seed funding to get CREATES off the ground
Drawing on world-renowned expertise in robotics, advanced surgical techniques, and healthcare technology development, CREATES brings together physicians from UPMC as well as engineers and researchers from Pitt and CMU to support the growing industry in advanced surgical devices and systems. Seeking out unmet needs in this space allows us to continually evolve and deliver high-value projects
CREATES has received consistent funding via PNC Charitable Trust through trust accounts that they manage including English-Bonter-Mitchell of Ft. Wayne, IN for a joint project with Parkview Health on surgical cognition, which helps with remote training of surgeons, and the Edith Trees Foundation that has supported surgical initiatives that help individuals with special needs
Age Related Macular Degeneration (AMD)
AMD research has progressed rapidly in Pittsburgh over the last 15 years as several prominent donors have made generous gifts which have allowed for recruitment of top talent to our team.
This includes Dr. Salvitti, who is making a difference. In 2008, he established the E. Ronald Salvitti, MD, Chair in Ophthalmology Research, and in 2016, he established the Jennifer Salvitti Davis, Chair in Ophthalmology Research. Both Chairs support scientists doing work in macular degeneration. Debashish Sinha, PhD, was hired as the Jennifer Salvitti Davis Chair; he came from John Hopkins University with a team of nine scientists. They are developing a lot of drugs that will improve the ability to prevent MD and possibly restore vision. They have teamed up with a company called Astellas.
Macular degeneration research is conducted in the Charles and Louella Snyder Laboratory for Retinal Regeneration. The addition of John Ash, PhD, E. Ronald Salvitti Professor of Ophthalmology Research, Vice-Chair and Director of Research, is also a boon to this area.
New therapies are under development that affect metabolism:
Drugs (Metformin, 8-OH-DPAT)
Proteins (LIF, OSM)
Gene therapies (LIF, STAT3, PGC-1a)
When it comes to macular degeneration, early detection is key. This is where high resolution imaging comes in. Dr. Ethan Rossi, of the Advanced Ophthalmic Imaging Laboratory, is working on adaptive optics – telescope technology focused on the cells in the eye.
Head and Neck Cancer (HNC)
Marian Mosites Initiative for Personalized Medicine in HNC
Currently led by the new Chair of Otolaryngology, José Zevallos, MD, HNC is a primary research focus for the department
Mosites family became interested in learning more about HNC research after family experience
Personalized medicine in HNC treatment has the ability to use tumor information to determine a more effective, less toxic treatment regimen for patients
Mosites family established the Marian Mosites Initiative for Personalized Medicine in HNC
Survivorship Program
In 2016, Chairman Emeritus Dr. Jonas Johnson, along with Marci Nilsen, established the HNC Survivorship Clinic
Goal is to improve quality of life by coordinating care through a multidisciplinary clinic. One copay to see several providers
Needed philanthropy to cover costs and support research to prove efficacy and cost savings to healthcare systems
Major gifts to support this have come from: Jack Buncher Foundation, PNC Charitable Trusts, Rhodora and Dick Barton
Louis J. Fox Center for Vision Restoration – Optic Nerve Regeneration
Louis and Dorothy Fox made initial contribution to establish the Fox Center in 2009 and continue to expand on their original contribution
Thanks to the Foxes, one other anonymous donor, and many donors over the years, the Fox Center has grown to a team of five scientists
Hearing Loss
Problem:
Untreated hearing loss is a barrier to communication and communication is essential to the human condition
About 48 million (or 14%) of Americans report some degree of hearing loss (CDC)
By 2050, nearly 2.5 billion people are projected to have some degree of hearing loss. At least 700 million will require hearing rehabilitation (World Health Organization)
Link between hearing loss and cognitive function and other major diseases
Our Solutions:
HearCare & Support – Support from the William Randolph Hearst Foundation helped establish

HearCARE: placed communication facilitators in senior living communities

Support: consumer driven dashboard to rate and inform choices of hearing aids (OTC options too)

GATE Project – Provided individuals with a cost-effective mechanism to access hearing health care in the location of their geriatric primary care (embedded audiology clinic) supported by the Fine Foundation
HearUP – Established with support from Mary Margaret and Tom Donahoe. Mobile clinics provide free hearing screenings and care to underserved populations around Pittsburgh
Initiative to Cure Glaucoma
Started in 2015 by Drs. Joel Schuman and Nils Loewen
Significant contributions from The Margaret Ritchie R. Battle Family Charitable Fund, and many individual donors established the initiative
Yiqin Du, MD, PhD, has developed the ability to harvest, culture, and deliver stem cells to treat damaged tissue in the trabecular meshwork
Ethan Rossi, PhD, builds adaptive optics to image retinal structures at the cellular level
Morgan Fedorchak, PhD, has developed technology that will allow eye drops dosing as infrequently as once every 3 months
Ian Sigal, PhD, in the Ocular Biomechanics Laboratory, is studying why some eyes seem very susceptible to damage at even normal intraocular pressure (IOP) while others are quite resistant to damage at much higher IOP. This mystery is the key to the next generation of glaucoma treatment. Instead of manipulating IOP, we could treat the eye to increase its resilience to IOP, transforming sick eyes into robust ones.
Cortical Vision & Neuroprosthetics
Prior to 2016, the University of Pittsburgh was well known for research in brain stimulation to rehabilitate parts of the body that had lost function. EEF supported work to research a neuroprosthetic device.
New Frontiers in Cortical Vision
With arrival of Dr. Sahel in 2016, we had an opportunity to build new teams around key initiatives toward solving all kinds of blindness
Because of potential to produce translational technologies that could be commercialized, EEF received its largest single donation to date: $6 million from the Richard King Mellon Foundation
Gift established the Center for Cortical Vision and recruited top talent from Duke, NIH, CMU, and other top institutions
Working together with Dept of Neurosurgery, the team has reached the point for clinical trial
Another gift of $300,000 from Richard King Mellon was made, and the trial will begin this year
Access to Care
Guerilla Eye Service founded in 2006 by Dr. Jake Waxman

Faculty, residents, and medical students hold monthly events at community health clinics where patients can receive eyeglasses as well as referrals for more serious issues

GES Recon formed to provide more access to vision screenings. Currently have 45+ retinal cameras in facilities around Pittsburgh which generate over 7,000 patient images annually

Hearing Education and Resources for Underserved Populations (HearUp)

Founded by Dr. Catherine Palmer, "mobile" clinics operated by the audiology department to provide free hearing screenings and care to underserved populations around Pittsburgh

Mission of Mercy

Annual two-day free clinic covering dental, vision, and hearing

In 2022, performed 735 vision patients and 417 hearing patients

Gave away 681 pairs of glasses and 409 hearing aids

EEF Board of Directors created a Community Outreach Committee in 2020 to address access to care needs in Pittsburgh
Access to care initiatives have been supported by the Jack Buncher Foundation, Brother's Brother Foundation, Henry L. Hillman Foundation, EEF, Dr. Nancy Washington, other community foundations, and many individual donors
As Snyder said, we are trying to think about how we can really improve the impact we are having in the community.