Now in its seventh year, Mission of Mercy Pittsburgh has treated over 5,000 patients since its inception. This free two-day dental, eye, and hearing clinic is for the underserved members of our community, from the working poor and people experiencing homelessness to veterans and families who are uninsured or don't have access to affordable health care.
In the Eye & Ear Foundation's April 19th webinar entitled "Behind the Scenes: The Impact of Providing Care at Mission of Mercy," Mission of Mercy (MoM) Pittsburgh Chairman Keith Young talked about the cause near and dear to his heart.
Existing Community Outreach Initiatives
Before introducing Young, EEF CEO Lawton Snyder described existing community outreach initiatives in the Departments of Ophthalmology and Otolaryngology at the University of Pittsburgh. "We recognize that the same level of care is not available to everybody," he said. "That's why so much of the work that we support through the EEF also exists in the community."
The Guerrilla Eye Service is one such initiative, founded in 2006 by Dr. Jake Waxman as a mobile eye clinic providing free vision screenings to underserved populations around Pittsburgh. Faculty, residents, and medical students hold monthly (sometimes more) events at various free clinics and Federally Qualified Health Centers (FQHCs) where patients can receive eyeglasses as well as referrals for more serious issues. GES Recon formed to provide more access to vision screenings. Currently there are 45+ retinal cameras in facilities around Pittsburgh, which generate over 7,000 patient images annually. GES was recently awarded a mobile eyeVan from Brother's Brother Foundation.
An initiative in the Department of Otolaryngology is HEAR-UP, which stands for Hearing Education and Resources for Underserved Populations. Founded by Dr. Catherine V. Palmer, the Audiology Department operates mobile clinics for free hearing screenings and care to underserved populations around Pittsburgh. Rotating monthly events include the Birmingham Free Clinic, the Squirrel Hill Health Center, and Catholic Charities, where pop up clinics on weekends have been added.
Mission of Mercy 2022: Departments of Ophthalmology and Otolaryngology
The 2022 event had a hearing clinic for the first time. There were 12 vision screening stations, two adolescent vision screening vans (in partnership with Vision to Learn), eight hearing test stations, and two otology stations.
EEF participation was possible through philanthropic support. Eyeglasses were donated, hearing aids were provided at a deeply discounted rate, the EEF Board of Directors donated $83,000, and the Jack Buncher Foundation donated $30,000.
Expansion
In 2017, MoM started with dental. For two years, free vision screenings were added, and for one year, there has been free hearing care. The event continues to expand. In the beginning, it was held at the Columbo Center at Duquesne University, and then moved to the Pittsburgh Paints Arena, where the Penguins play. When MoM ran out of space, it moved to the Pittsburgh Convention Center. The next event will mark the third year there.
A video was played as an overview of MoM.
2022 MOMPGH Outcomes
# of patients total: 1,465
# of volunteers: 1,155
# of patients receiving dental care: 975
# of patients receiving eye exams: 735
# of patients receiving free eyeglasses: 681
# of patients receiving hearing exams: 417
# of patients receiving free hearing aids: 229
As evidenced by these numbers, "Mission of Mercy has a very powerful impact on individual people and the community," Young said.
2022 MOMPGH Value to Patients and Community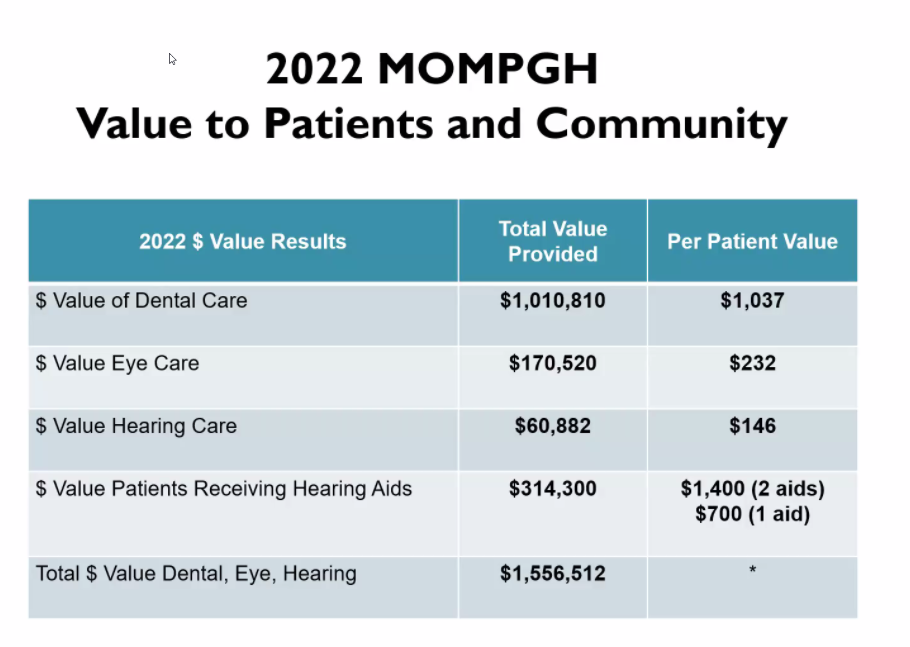 2022 MOMPGH Satisfaction
The numbers do not lie. The number of patients happy with their care? Ninety nine percent. The same number say they will return next year. The percentage of volunteers who will return next year is 96%.
"We treat people with dignity and respect," Young said. "A lot of these folks are not people that get a lot of dignity and respect every day. It's critical that we treat people with compassion."
What is sobering is how many people live with their pain or with vision and hearing issues without getting the care they need. Young said 93 million people are at high risk for vision loss, but a lot never get to an eye doctor. Only 18% of people that need hearing aids have them. Only 24% actually go and get hearing tests.
MoM also tries to get people to aftercare, because being taken care of once a year simply is not enough.
Pulling it All Together
Many large corporations in Pittsburgh like PNC, UPMC, Highmark, and the Mellon Foundation, came together to help and provide necessary financial support. Significant in-kind donations also help.
Volunteering
It all comes down to the volunteers. Since the event will likely be bigger this year, at least 1,200 volunteers are needed – more general than clinical. "I want you to volunteer," Young said. "I want you to come down. You can't imagine what I'm talking about until you walk into that room and see what happens. This will be one of the best volunteer experiences you do. It's very tangible. You're going to see the patients, walk them through, and hear people say, 'I haven't heard for 30 years.' That's what makes it a profoundly moving volunteer event, a very different kind of volunteer event that you will get a tremendous amount out of."
Sign-ups will probably start mid-July.
Snyder confirmed how rewarding this volunteer opportunity is. In addition to the sheer numbers, he said what is also surprising is seeing people come in with issues we take for granted; many of us have ways to take care of dental, vision, or hearing issues, but MoM attendees really need help. Dental, vision, and hearing are three service areas more likely to not be part of an insurance plan. There is help at MoM for people to learn how to get onto Federal or state programs for support.
"I highly encourage you to volunteer," Snyder said. "We're looking forward to participating this year."