The long-awaited opening of the Vision Institute at the UPMC Mercy Pavilion was met with fanfare on April 20.
"As we celebrate the opening of our new building, we also demonstrate our commitment to the city, this community and all the communities we serve," said Leslie C. Davis, President and CEO of UPMC. "We are excited about the economic potential this facility brings, helping us to care for patients from this region and patients who will travel here from all over the world."
The building is the first of its kind in the nation, a one-stop-shop for people with vision issues. Everything was designed, chosen, and built intentionally. The building will also be home to the UPMC Rehabilitation Institute. The pavilion houses eight eye disease operating rooms, 83 eye exam rooms, 10 rehab exam rooms and 100,600 square feet of research space. A coffee shop in the lobby, along with a pharmacy and optical shop, will be open to the public.
"I have always believed that we need to view patients as people first," said Dr. José-Alain Sahel, Director of the UPMC Vision Institute. "Taking this view, we have a more holistic approach to caring. We will work with human sciences at the University of Pittsburgh and Duquesne University to better understand and meet patients' expectations, while developing novel approaches to restorative therapies and access to care."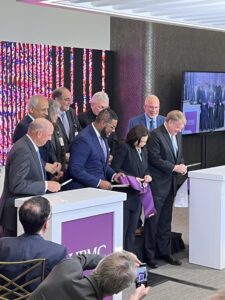 Other speakers included Gwendolyn Sowa, MD, PhD, director of the UPMC Rehabilitation Institute, John Innocenti, President of UPMC Mercy, John Surma, Chair of the UPMC Board of Directors, Bishop David A. Zubik of the Archdiocese of Pittsburgh, and Dean of the University of Pittsburgh School of Medicine Anantha Shekhar. Of the 250 guests in attendance, several members of the Eye & Ear Foundation Board and staff were there. The ribbon cutting was held in the Daniel and Carole Kamin Lobby, and the family was present. Diplomats included Consul General for France to the US Francois Penguilly.
After the speeches and ribbon cutting, guests were invited to take self-guided tours of the building. Many of the artists were available to greet guests and explain their work. Heather Chronis Danek, EEF Senior Director of Development for Individual Giving and Corporate Partnerships, described it as a "fantastical sort of space – light and airy with a nod to the future."
Guests got to see the results of the partnership EEF and UPMC Mercy have with the children and staff of the Western Pennsylvania School for Blind Children, who will design, plant, and maintain a portion of the gardens, plantings, and floral arrangements of the Bruce and Barbara Wiegand Garden.
"It was just an amazing feeling to see the cumulation of the hard work of so many people and the partnering organizations," said Lawton Snyder, EEF CEO. "It was a really special day, and we were all beaming with pride. Our plans to ramp up the intended work will now move forward."
The Vision Institute will be open for patients on May 1.