The Eye & Ear Foundation's May 3rd webinar, "Pittsburgh's Vision Institute: A Resource for the Community," was a chance to get an up-close look at the new building. Dr José-Alain Sahel, Distinguished Professor and Chairman of the Department of Ophthalmology, University of Pittsburgh School of Medicine, guided viewers through the visual presentation. Watching the webinar is the best way to view the photos and renderings; it will be online soon.
In the meantime, Dr. Sahel touted the "very very new" building, which had its grand opening less than two weeks ago. May 1, it opened to patients. Scientists have yet to move in but should be by June.
Building the Vision Institute
When Dr. Sahel came to Pittsburgh in 2016, the Vision Institute was not even in the plans. As he shared new ideas and experiences from his previous life in Paris, the idea took root to have an all-integrated site for clinical care, research, patient engagement, and development toward industry merged in the same building. The Paris Institute was a model.
The Vision Institute is very large, with 400,000 square feet. Once work began, it became obvious that there were a lot of synergies with the Department of Rehabilitation, which led to a partnership, and them joining the building. "It contributes to a spirit totally focused on patients' well-being and enabling therapies to improve their lives," Dr. Sahel said.
One of the consultants was architect Chris Downey, who became blind after he started his career and helped conceive the building's concept and accessibility.
Building Layout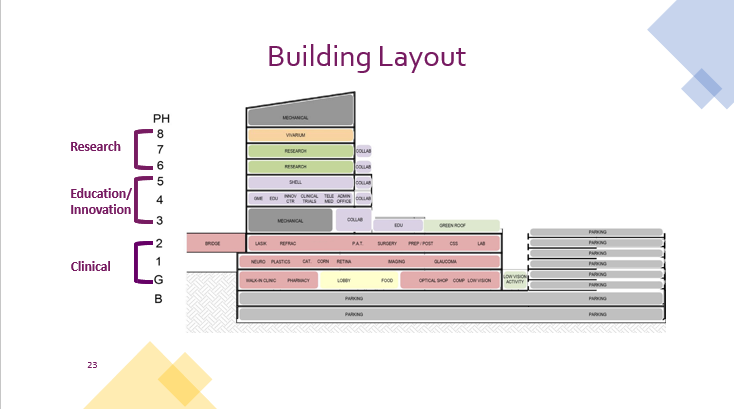 The building has 10 stories with a huge parking building next to it. The architecture of the building was meant to integrate as much as possible in the neighborhood.
Patients are greeted at the entrance and brought to the right place with concierge assistance. The first floor houses the Daniel G. and Carole L. Kamin Atrium and Lobby, which has a lot of light. Retail spaces include a superb optical shop, pharmacy, and a coffee shop that will open in the summer. These will all be open to the public. First floor clinic spaces include comprehensive care, outpatient testing, and urgent eye care. Currently urgent eye care is only open for a few hours a day, but the plan is to extend its hours and ultimately have it open 24-7. A donor wall highlights the generous donors to the New Horizons for Care campaign.
Art Installations
Art is integral to the building. The goal is to bring visibility to what is unique about the Center of Excellence – where art meets science, new technologies mean greater resiliency, and where traditional interventions evolve.
The art will help patients feel supported in accessing care. It will enable any visitor to approach and discover the building comfortably, safely, and with confidence. It will contribute to a seamless arrival and departure sequence that allows for speedy access to care.
The art will also engage people as more than just patients – i.e. persons. It creates an environment that appeals outside of a traditional "clinic" scenario. Art is embedded in ways that activate or engage, to heal, inspire, orient, and reflect.
The art will help connect the community by identifying opportunities for art to increase curiosity and reduce feelings of isolation. A range of art experiences is presented to connect with the interests of diverse patients.
Read more about the art: The Art of the Vision Institute
Floor Layout
Floor 2 houses clinical services serving people with glaucoma and those with retina and cornea issues. It has state of the art imaging and a pod exam room configuration for flexibility of use between services. Patients will not have to move back and forth between waiting rooms; they are guided right to their location.
The third floor is a dedicated surgical space, with cutting-edge quality of care utilizing state of the art technologies like imaging, laser cataract surgery, excellence centers for dry eye, refractive surgery, and 3D surgery.
The fourth floor is for innovation and education, a world class education and training center educating patients, practitioners, and providers. There are meeting spaces on this floor for this purpose.
The Fine Foundation Winter Garden is an indoor space meant to be used by staff and scientists but can also welcome events and visitors. Just next to the Winter Garden is the Bruce and Barbara Wiegand Roof Terrace, also used by faculty, staff, and visitors. Some of the gardens are designed and maintained by the Western PA School for Blind Children.
Low vision and rehabilitation spaces include a Street Lab to assess functional vision loss.
The E. Ron Salvitti MD Surgical Training Laboratory is not fully finished, but will be a state of the art surgical education training center with 16 work stations.
A collaborative staircase brings together education and research with the goal of having people meet.
The fifth floor houses clinical trial space. It is fully equipped to develop all the new approaches to therapies and contains real life assessment.
Research suites are housed on floors seven through nine. The Vision Institute has a very large number of scientists, causing the Department's ranking to rise dramatically over the past few years. The number is already twice what it was when Dr. Sahel first arrived, and he is working on recruiting more.
Innovative therapies are a hallmark of the Department, including ones like gene therapy and cortical stimulation.
Community Engagement and Assess to Care
Assess to care is a priority as evidenced by the hiring of a patient navigator and the following actions:
Social determinants of health
Predictors of non-compliance
Interventions on site (coordinator)
Guerrilla Eye Service/Telemedicine
Vision to Learn
Mission of Mercy
Brother's Brother Van
Training program for underserved students
Training staff for clinical care
Community champions
When Dr. Sahel came to Pittsburgh, he was told about the building of the Cathedral of Learning at Pitt. It was built during a crisis by the top down. This called to mind a quote by Henry David Thoreau, which applies to the new Vision Institute: "Do not worry if you have built your castles in the air. They are where they should be. Now put the foundations under them." This is what UPMC, Pitt, and all the foundations and individuals providing support have made possible.
EEF CEO Lawton Snyder called the Vision Institute an amazing asset for the community, "and an amazing opportunity for everyone here in Pittsburgh to benefit from everything that's going to happen in this facility."