The Department of Ophthalmology at the University of Pittsburgh has new faculty starting August 1st.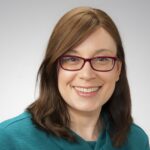 Denise Gallagher was a retina fellow at Pitt and will be starting as a physician. She received her bachelor's from Wellesley College and her medical degree from Albert Einstein College of Medicine. She did her ophthalmology residency at Bronx Lebanon Hospital Center in the Bronx.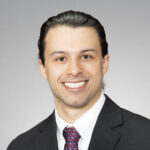 David Mora-Boellstorff was a resident at Pitt and will start as a comprehensive ophthalmologist. He graduated from the University of Texas at Austin with a BS in biomedical engineering. He attended the University of Texas Medical School at Houston where he went from telling people he wanted to do anything but ophthalmology to not seeing himself being any other kind of doctor besides an ophthalmologist. He completed a transitional year internship at Providence Sacred Heart Hospital in Spokane, Washington prior to starting his categorical training in ophthalmology in Pittsburgh.
When asked what drew him to this position, he replied, "During residency, I often found myself drawn to the patients on the consult service. UPMC Presbyterian is an enormous referral center, and we receive complicated cases from the surrounding areas. With the move of the majority of the Department to the Vision Institute, I was excited by the prospect of taking responsibility for the large inpatient ophthalmology burden that would remain at Presbyterian."
In his new role, Dr. Mora-Boellstorff hopes to educate residents, staff surgeries, and continue learning with each patient encounter, all while providing excellent care. He would also like to collect some epidemiologic data about the nature/frequency/urgency of inpatient consults at Presbyterian and work with some of the services to see if they can optimize some consulting practices. "I'm excited for the challenge," he said.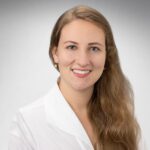 Kateryna Sanders was an optometry resident at Pitt and will be starting as an OD. She received her bachelor's degree from Washington and Jefferson University and her doctorate from Salus University. She was one of Pitt's inaugural optometry fellows and specializes in ocular disease.
A Pittsburgh native, Dr. Sanders will be working in the medically necessary contact lens clinic as well as the low vision clinic. She hopes to contribute to the research of genetic retinal dystrophies as well as low vision techniques.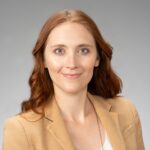 Kirsten Winter was an optometry resident at Pitt and will be starting as an OD. She received her bachelor's from the University of Maine and the University of Southern Maine, and her DO from the State University of New York College of Optometry. She has a special interest in the diagnosis and management of glaucoma, acute care, and neurologic and systemic disease with ocular manifestations.