The Department of Otolaryngology has two new hires: Garret W. Choby, MD, and Jessica Maxwell, MD, MPH.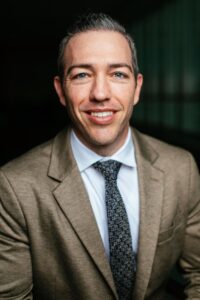 Starting August 1, Dr. Choby is an Associate Professor of Otolaryngology – Head and Neck Surgery and Neurosurgery at the University of Pittsburgh School of Medicine. He specializes in sinus and skull base surgery.
A Pittsburgh native, Dr. Choby received his medical degree from the Pennsylvania State University College of Medicine. He completed his otolaryngology residency at UPMC followed by fellowship training in rhinology and skull base surgery at Stanford University. He then joined the faculty at the Mayo Clinic in Rochester, MN, with joint appointments in the Departments of Otolaryngology and Neurosurgery, where he served as the Chair of Quality and had a domestic and international referral practice for sinonasal cancers, skull base tumors, and refractory sinus disease.
Dr. Choby has been named Departmental Teacher of the Year and is a three times recipient of the Press-Ganey patient experience award. He has the Chair-Elect of the Skull Base and Orbital Surgery section of the American Rhinologic Society (ARS) and Chair of the ARS Educational Courses committee.
The departmental history of "cross-departmental innovation and surgical excellence, especially in the realm of endoscopic skull base surgery" was one of the draws for Dr. Choby. He also cited the people, saying "the Department is populated by world-class surgeons who I am lucky to count as confidantes and friends."
In his new role, Dr. Choby hopes to help further the national and international reputation of the Department by contributing to Departmental efforts in clinical excellence, research, and education. His active research areas include improving quality of life following endoscopic skull base surgery and improving survival in patients with sinonasal malignancies. Highlights of ongoing studies include proliferative and transcriptomic profiling of sinonasal mucosal melanoma, a multi-site prospective investigation on chemosensory and quality of life dysfunction following endoscopic skull base surgery, and a multi-site consortium prospectively evaluating survival outcomes and transcriptomic profiling of sinonasal malignancies.
Married to Kristen with three sons, when Dr. Choby is not in the operating room, he can likely be found playing or coaching sports, working out, in the crowd at a concert, or road tripping.
Jessica Maxwell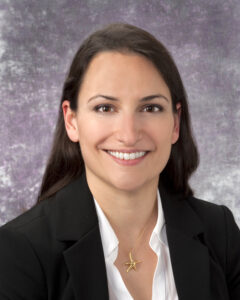 Starting October 9, Dr. Maxwell will be Associate Professor and Chief of ENT at the VA. She will also be the Associate Program Director for the Residency program. Dr. Maxwell is a graduate of the University of Michigan Medical School and subsequently completed her residency training and fellowship in Head and Neck Surgical Oncology at the University of Pittsburgh. She then joined the Department of Otolaryngology-Head & Neck Surgery at Georgetown University, where she became an Associate Professor and Research Director for the Department.
Dr. Maxwell has been the Chief of ENT at the Washington DC Veteran's Affairs Medical Center since 2018. In this role, she leads the multidisciplinary Head and Neck Surgical Oncology Program at the VA Medical Center. She has been actively involved with the Cancer Committee at the Washington DC VA, where she was elected as Cancer Liaison for the American College of Surgeons. She has also served as Vice Chair for the Research and Development Committee.
Dr. Maxwell's clinical interests include the management of head and neck squamous cell carcinoma, parathyroid and thyroid disorders, salivary gland abnormalities, and transoral robotic surgery for HPV+ oropharyngeal cancer. She is actively involved in outcomes research in veteran populations as well as research on residency education and training.
"I was drawn to this position because I think there is a lot of positive energy and momentum in the Otolaryngology Department at the University of Pittsburgh right now," Dr. Maxwell said. I have loved working with veterans at the DC VA, and there was an opportunity to work both at the Pittsburgh VA and on the University side. I really loved my training in Pittsburgh through residency and fellowship, and I am excited to give back to the program and train future otolaryngologists at Pitt."
In her new role, Dr. Maxwell will be focusing on head and neck cancer surgery, endocrine surgery, and salivary disorders. She hopes to build the Pittsburgh VA Head and Neck Oncology program into a premier site for cancer care among veterans in the area.
"I'm looking forward to a lot of things!" Dr. Maxwell said. "One thing I'm excited about is working with a diverse head and neck team, both in terms of experience and training. I think this diversity in training will make for an even stronger program for both the patients and trainees!"
Dr. Maxwell's husband is also in medicine and trained in sports and spine. They have two boys, ages 6 and 9, who are excited about the next chapter in their lives. During her free time, Dr. Maxwell likes to run, draw, read, and have family movie night with plenty of popcorn.