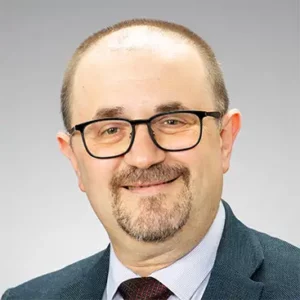 Boris Rosin, MD, PhD, Assistant Professor of Ophthalmology, Medical and Surgical Diseases of the Retina and Vitreous, Department of Ophthalmology/UPMC Vision Institute at the University of Pittsburgh, received a Medical Research Award from the Pittsburgh Foundation.
The $52,000 award will go toward Dr. Rosin's research. It was bestowed for preliminary results demonstrated in general visual dysfunction.
"We will use it to purchase the necessary supplies and establish the models needed for the study of optic neuropathies," Dr. Rosin said. "This will be used as a platform for submission of a larger grant to the Department of Defense dealing with traumatic optic neuropathies." Optic neuropathies are a common cause of blindness, with glaucoma being the most common optic neuropathy.
Dr. Rosin's research focuses on the central nervous system (CNS) correlates of visual dysfunction. More specifically, he is interested in the changes occurring in the CNS activity during the development of visual dysfunction. He also looks at ways to employ different strategies to help "return the activity to normal," employing different rehabilitation techniques following treatment.
"We are particularly interested in preventing the "retasking" of different brain areas, originally tasked with vision, to other sensory modalities when vision fails," Dr. Rosin said. "We believe that such approaches could improve the outcomes of any treatment for any visual disorder, simply by improving visual processing on the CNS level."
In patients with advanced visual impairment, any potential gain of function could be of utmost importance, Dr. Rosin added. "To date, very few approaches for visual restoration exist for patients with complete blindness."