Christina Yver, MD, has unique training and expertise in the management of facial nerve disorders. It just so happened that the University of Pittsburgh was looking for a provider with these qualifications, allowing her to work with "an incredible Department doing something I am very passionate about," she said.
As of September 2023, Dr. Yver is an Assistant Professor of Otolaryngology within the division of Facial Plastic Surgery and Director of the Facial Nerve Disorders clinic at UPMC Shadyside. She completed medical school and residency in otolaryngology/head and neck surgery at the University of Pennsylvania Perelman School of Medicine. Dr. Yver was the facial plastic surgery fellow at the Facial Nerve Center of Harvard Medical School and the Massachusetts Eye and Ear Infirmary, considered among the leading facial nerve programs in the world.
"Having someone with an expertise in facial nerve disorders is extremely important to a busy Otolaryngology Department," Dr. Yver said. "Because of its unique and complex anatomy, the facial nerve is prone to damage from trauma, head neck cancer, conditions such as Bell's palsy, and any surgery of the head and neck area. Management of facial nerve disorders is a field that has progressed and changed incredibly quickly in the last 10-20 years, so having someone with expertise in the management of facial nerve disorders is crucial as there are many, many treatment options for these patients, ranging from things like physical therapy and Botox to minor in-office procedures to large reconstructive surgeries including free muscle transfer."
Dr. Yver's goals for her new role are to grow the facial nerve program within the Otolaryngology Department and help teach residents and trainees about the most modern advances in the treatment of facial nerve disorders. She also hopes to expand the presence of the facial plastics division as it pertains to the treatments of other facial plastic surgery conditions such as facial trauma, facial reconstruction, and cosmetic facial plastic surgery.
She is especially interested in synkinesis, which is a subset of facial nerve disorders that occurs when there is disorganized nerve recovery after a transient facial nerve insult. These patients can have many debilitating symptoms like muscle tightness, disorganized or aberrant facial movements, and functional issues such as difficulty with speech and oral incompetence. Since there are many minor procedures and interventions available to these patients that were unheard of 10 years ago, Dr. Yver looks forward to bringing these treatment options to UPMC patients.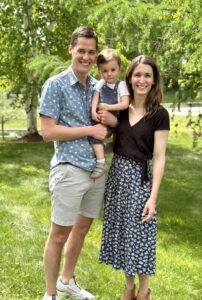 Dr. Yver moved to Pittsburgh with her husband Hugues, who is completing his fellowship training at Children's Hospital of Pittsburgh, and their two-year-old son Simon. They love to spend time as a family, do things outdoors, and travel. "We are very much looking forward to exploring Pittsburgh!" she said.