On the first day of the 2023 Mission of Mercy Pittsburgh event, a homeless woman who struggles with vision loss as a result of childhood abuse came to the vision clinic. Dana McGinnis-Thomas, a patient navigator in the Department of Ophthalmology at the University of Pittsburgh, saw that she needed better clothing and gave her a sweatshirt. The woman returned on Saturday to thank her because the sweatshirt kept her warm all night.
In addition to her gratitude, she wanted to talk to McGinnis-Thomas about something she had offered the previous day – a path to employment. McGinnis-Thomas and Barb Peterson from Blind & Vision Rehabilitation Services of Pittsburgh (BVRS), who was volunteering, provided her with information on various workforce development opportunities for someone with her disability.
Stories like these exemplify what Mission of Mercy Pittsburgh is all about. And there are countless of them. They are made possible, thanks to the Eye & Ear Foundation in partnership with Call to Care. Free care for vision, hearing, and dental was provided for ages two and up October 27-28, 2023.
"All records were shattered," said EEF CEO Lawton Snyder.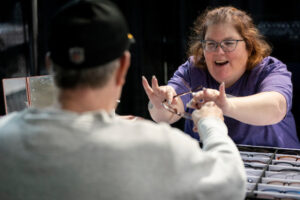 More than 825 patients received vision care; most of them will get free glasses. The number of patients includes 44 kids, seen by Vision to Learn. Thirty pairs of glasses were prescribed for this group. The wider eye team prescribed glasses for another dozen kids. Otology saw 113 patients in two days. Hearing tests were completed on 447 people, with a total of 543 hearing aids distributed and 274 individuals receiving them.
Snyder met a 70-year-old woman who was emotional about getting her hearing aids. When he asked if she had ever had them before, after telling him he was speaking too loudly, she said she had hearing aids since she was five years old. She used them faithfully until 2019, when she was admitted to the hospital. Her hearing aids were left at home so they would not be lost. But while she was there, her house burned to the ground. She had been living without her hearing aids, glasses, and dentures since 2019.
"I saw beautiful people of all ages who were humble enough to admit they needed our help, moved to tears when they received care with dignity from clinicians, technicians, administrators, students, and volunteers," Snyder said. "I was also very moved by the enthusiasm and devotion of every volunteer, and very proud of how many Eye & Ear related volunteers were there."
According to Catherine V. Palmer, PhD, Professor and Interim Chair, Department of Communication Science and Disorders, University of Pittsburgh, Professor, Department of Otolaryngology, University of Pittsburgh, and Director, Audiology UPMC, Pitt alumni traveled in from other cities to volunteer because the event was so meaningful to them last year. The volunteer group more than doubled this year. One of this year's participants was a patient at last year's event when she was fitted with two hearing aids as she headed off to college. She had never had amplification even though she had hearing loss throughout her life. She came back this year as a "hearing volunteer" to give back share how well her first year of college went being able to hear.
"There is nothing like spending three long days with good friends on a mission that has become an annual celebration of the best of humanity addressing basic human needs," Snyder summed up.
The event reached capacity both days.