The American Academy of Otolaryngology-Head and Neck Surgery (AAO-HNS) and the American Academy of Ophthalmology (AAO) recently held conferences for their members.
The AAO-HNS Academy was held in Nashville September 30-October 3. It included the Eugene N. Myers International Lecture on Head and Neck Cancer, an award endowed by Leslie Nicholas, MD, in honor of his nephew, Eugene N. Myers, MD. Dr. Myers is Distinguished Professor Emeritus of Otolaryngology and Emeritus Chair, Department of Otolaryngology at the University of Pittsburgh. The 2023 lecturer was Francis Marchal, MD, a world leader in sialoendoscopy. The Professor of Otorhinolaryngology at Geneva University Hospital in Switzerland spoke about "Salivary Glands: A Paradigm Shift?" to an audience of several hundred.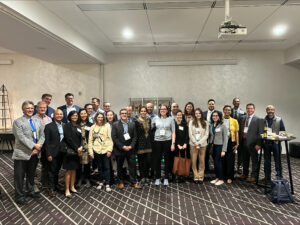 The Pitt Otolaryngology alumni event was held at the Union Station Hotel. Approximately 75 alumni attended the cocktail party.
AAO 2023 took place in San Francisco November 3-6.