Two prestigious annual lectures were held in November: The Siciliano and the Muse.
On November 9, the Department of Otolaryngology held an Eye & Ear Foundation sponsored Siciliano Lecture, with Dr. Maie St. John as the featured speaker. Dr. St. John is Professor and Chair of the Department of Otolaryngology at UCLA. She presented on her research in head neck cancer as well as several surgical devices she is developing. She also included an insightful discussion on leadership, which benefitted all the young faculty and residents in attendance.
Dr. José P. Zevallos, Chair of Otolaryngology at the University of Pittsburgh presented Dr. St. John with an award honoring her for being this year's Siciliano lecturer.
The Siciliano Lecture was established by donations from Huberta Siciliano and the Siciliano family in honor of Joseph Siciliano, who lost his battle with head neck cancer.
On November 14, the Department of Otolaryngology held the 20th Eye & Ear sponsored Muse Dinner. Eighty guests attended the dinner at the Duquesne Club, with a mix of donors, Board members, friends, and Otolaryngology faculty. Al and Eileen Muse were in attendance. The event benefited head and neck cancer research in the Department of Otolaryngology at the University of Pittsburgh.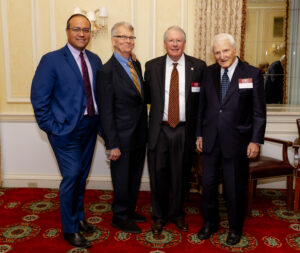 The 2023 Albert C. Muse Prize for Excellence for Research and Advancement of Care in Otolaryngology went to Randal S. Weber, MD, FACS. He is a retired Professor, Department of Head and Neck Surgery, Division of Surgery, The University of Texas MD Anderson Cancer Center, Houston, Texas.
Jonas T. Johnson, MD, FACS, Emeritus Distinguished Service Professor and Chairman, Department of Otolaryngology, University of Pittsburgh School of Medicine, was awarded the 2023 Albert C. Muse Award for Excellence for Innovation and Service in Otolaryngology. In his speech, he stressed that you never do it alone in your career; it takes so much support – family, colleagues, and opportunities. He thanked the Eye & Ear Foundation for their support, which helped him achieve many of his goals for the Department.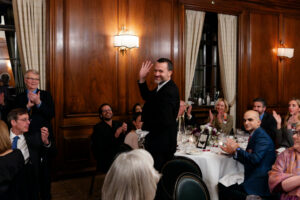 Dr. Chris Cunningham, Assistant Professor of Otolaryngology, won the 2023 Albert C. Muse Endowed Research Award. This award was established in 2019 by Albert Muse's nephew, William Collin. Collin wanted to establish an award with the Eye & Ear Foundation in honor of his uncle, who has served on the Eye & Ear Foundation Board, and previously the Eye & Ear Institute Board, for more than 50 years. This award rotates between the Department of Otolaryngology and Ophthalmology annually and is used to support innovative research taking place in the Departments. Dr. Cunningham received this year's award to support his developing gene therapies for hearing loss.
"It was a festive evening filled with friendship, wonderful memories, a few (happy) tears, and a great focus on the importance of science," said Heather Chronis Danek, Senior Director of Development for Individual Giving and Corporate Partnerships at EEF.