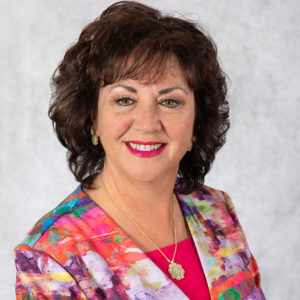 Name: Mary Crawford
Hometown: Pittsburgh (Churchill)
How did you first become acquainted with the Eye & Ear Foundation?
I first became acquainted with Eye & Ear in 1999. I had been extremely sick with a recurring sinus infection and my primary care physician at that time attributed my condition to stress from owning a business. My sister, Patti, worked at Eye & Ear for Dr. Berrylin June Ferguson and mentioned my symptoms to her. BJ, as I now refer to her, was a cancer survivor, and she thought my symptoms sounded like her symptoms when she was diagnosed. She fit me into her schedule at the end of a workday, and during that appointment she contacted an oncologist to determine the appropriate blood tests for my symptoms. That is how I was diagnosed with Non-Hodgkin's Lymphoma. I am cancer-free, and I thank God every day for bringing Dr. Ferguson into my life.
Why do you support the Eye & Ear Foundation?
When I heard that BJ was receiving an award, I of course wanted to help acknowledge her. This is how I initially began to support the Eye & Ear Foundation. Since then my support of Eye & Ear extends to my family. My brother, David Crawford, helped me to build my business but he had to retire in recent years due to the loss of his eyesight from both glaucoma and macular degeneration. It's important to me to help support research that could help save vision for people like him.
What excites you the most about the work of the Eye & Ear Foundation?
I enjoy staying informed on the research taking place by the new webinars and also the blogs and newsletters. However, last winter my brother and I, along with my sister-in-law, had the opportunity to come into the facilities and tour some of the research areas. We were all blown away by the progress being made. I think we all feel like if there is going to be a major breakthrough in vision research that could possibly save the vision of my brother and others, that it's going to happen at Pitt.
What research or breakthroughs do you hope to see in the future?
Given my brother's conditions, my family's main hope is that there are major breakthroughs in glaucoma and macular degeneration research. When we toured the facilities one of the things that surprised us is that there's so much amazing research going on that most people don't know about. My hope is that with so much research taking place we will eventually see some real-life solutions that could help patients all over the world.
If you would like to learn more about the Foundation or help me support this essential research, please contact the Eye & Ear Foundation's CEO, Lawton Snyder at 412-864-1300.
Or, to make a donation click below:
The Eye & Ear Foundation offers insightful resources to learn more about the research advances and educational efforts within our departments. Register for our Sight + Sound Newsletter, Blog, and Webinars below to learn about our research advances. You can also like and follow EEF on Facebook, Twitter, and LinkedIn. In addition to the resources listed below, the Foundation would be happy to meet with you or schedule a tour to visit the research labs.
Sight + Sound Newsletter: A semi-annual newsletter featuring faculty, research, and donor stories.
Sight + Sound Blog: A weekly email blog featuring a clinician or scientist and details on their current research.
Sight + Sound Bites: A webinar with EEF's CEO, Lawton Snyder, along with a clinician and scientist team presenting their research advances and answering any questions from participants. Sign up to receive invitations to the Sight + Sound Bites Webinars.
Social Media: EEF posts updates on faculty, research advances, and articles on social media. Follow EEF on Facebook, Twitter, and LinkedIn.