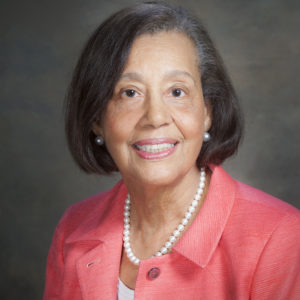 Name: Nancy D. Washington, PhD
Hometown: Pittsburgh, Pennsylvania
How did you first become acquainted with the Eye & Ear Foundation (EEF)?
I have suffered from Glaucoma for many years and several years ago developed retinal occlusion in my right eye. My mother suffered from Glaucoma, and my first cousin is blind because of it. At UPMC Eye Center, I believe that I am receiving the best care possible from Drs. Ian Connor and Andrew Eller. An evaluation at another university-affiliated eye center confirmed my belief. Through my friend, Heather Chronis, I met Lawney Snyder, Eye & Ear Foundation CEO. I learned about the work that is going to advance research and service to assist the many people in danger of becoming blind from these diseases.
Why do you support the Eye & Ear Foundation?
As an African American, I know that Glaucoma is a leading cause of blindness in my community and often goes undetected and untreated. For me, finding an effective treatment and cure is not just personal, but essential for my family and my community. I not only support the research, since 2018 I have served on the Eye & Ear Foundation's Board of Directors. The Eye & Ear Foundation is a non-profit 501(C)(3), and it solely supportd the educational and research efforts of Departments of Ophthalmology and Otolaryngology at the University of Pittsburgh School of Medicine.
What excites you the most about the work of the Eye & Ear Foundation?
The thing that excites me the most about the Foundation is its aggressiveness. It is relentless in bringing forward and supporting researchers and clinicians with great promise and also of substantial reputation. The task of finding the answers to questions of causality and cure is met with great fierceness. Every breakthrough is greeted with shouts of joy. Work that takes service into the community, like the Guerilla Eye Project, is a special interest of mine.
What research or breakthroughs do you hope to see in the future?
Glaucoma is such an old disease, and we still do not know what causes it and, therefore, what will be the best prevention and treatment. Also, research on repairing the optic nerve will be so crucial in the lives of many, many people.
To read more about the research I have mentioned, please click on the following links:
Guerilla Eye Service
Glaucoma
Optic Nerve Research
To view printable one-sheets from the Eye & Ear Foundation on the research I support, please click below:
A New Look at Treating Eye Disease
Regenerating the Optic Nerve
Getting A Bird's Eye View
If you would like to learn more about the Foundation or help me support this essential research, please contact the Eye & Ear Foundation's CEO, Lawton Snyder at 412-864-1300.
Or, to make a donation click below:
The Eye & Ear Foundation offers insightful resources to learn more about the research advances and educational efforts within our departments. Register for our Sight + Sound Newsletter, Blog, and Webinars below to learn about our research advances. You can also like and follow EEF on Facebook, Twitter, and LinkedIn. In addition to the resources listed below, the Foundation would be happy to meet with you or schedule a tour to visit the research labs.
Sight + Sound Newsletter: A semi-annual newsletter featuring faculty, research, and donor stories.
Sight + Sound Blog: A weekly email blog featuring a clinician or scientist and details on their current research.
Sight + Sound Bites: A webinar with EEF's CEO, Lawton Snyder, along with a clinician and scientist team presenting their research advances and answering any questions from participants. Sign up to receive invitations to the Sight + Sound Bites Webinars.
Social Media: EEF posts updates on faculty, research advances, and articles on social media. Follow EEF on Facebook, Twitter, and LinkedIn.