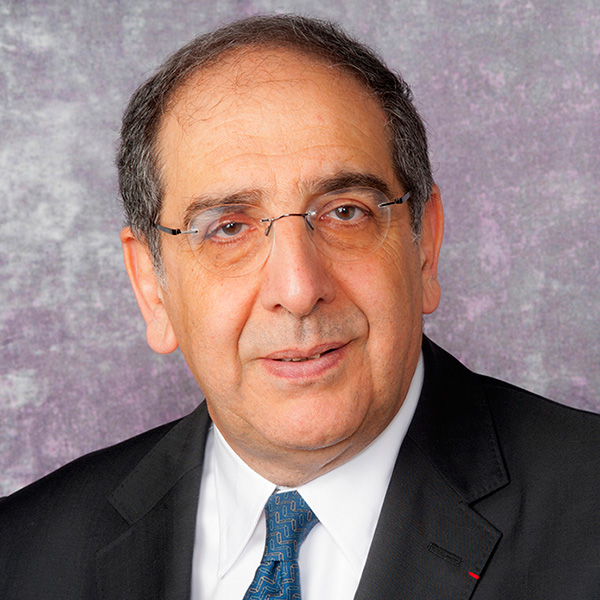 José-Alain Sahel, MD
Distinguished Professor and Chairman of Ophthalmology
Eye & Ear Foundation Endowed Chair
University of Pittsburgh School of Medicine
Founder, UPMC Vision Institute
Dr. José-Alain Sahel is a clinician-scientist conducting research on vision restoration in retinal degenerative diseases. His main interests focus on cellular and molecular mechanisms underlying retinal degeneration, and the development of treatments for currently untreatable retinal diseases by resorting to pharmacological treatments, gene therapy, stem-cell therapy, and retinal prosthesis. He is Professor and Chairman of the Department of Ophthalmology at the University of Pittsburgh Medical School and The Eye & Ear Foundation Endowed Chair, and Founder of the Vision Institute at the UPMC Mercy Pavillion.
Dr. Sahel also serves as Professor of Ophthalmology at Pierre & Marie Curie University – Sorbonne Universities, Founder and Director of The Vision Institute, Paris, France (20 principal investigators, more than 300 staff members). He coordinates the Paris-based Ophthalmology Clinical Investigation Center, overseeing more than 70 clinical trials, some of them within the most advanced areas of biomedical technologies, such as retinal implants and gene therapy.
He has been the recipient of numerous awards, including the Foundation Fighting Blindness Trustee Award, the Alcon Research Institute Award for Excellence in Vision Research, the Grand Prix NRJ-Neurosciences-Institut de France, Llura Liggett Gund Award from Foundation Fighting Blindness. He was elected to the European Academy of Ophthalmology, the Academia Ophthalmologia Internationalis, the Academy of Sciences-Institut de France, the German National Academy of Sciences Leopoldina, and the National Academy of Technologies of France. He was a founder of Fovea Pharmaceuticals, which became the ophthalmological division of Sanofi, and is a scientific co-founder of StreetLab (visual adaptation and rehabilitation), GenSight Biologics (gene therapy), and Pixium Vision (artificial retina).
Accomplishments
Clinician-scientist conducting research on vision restoration in retinal degenerative diseases
Founder and Director of The Institute de la Vision in Paris, France

Grew to over 500 employees in just 10 years
200 patents
Collaborating with 50 companies
Created 12 companies

Recruited to the University of Pittsburgh School of Medicine in 2016

91 invention disclosures
24 US-issued patents
97 US patents filed
37 transactions/deals
6 startups

Main interests focus on cellular and molecular mechanisms underlying retinal degeneration, and the development of treatments for currently untreatable retinal diseases
Has co-authored over 490 peer-reviewed articles