The Eye & Ear Foundation collects support from donors like you to help propel research forward. Whether big or small, our donors' gifts make a difference in the lives of patients and their families. One of our favorite stories that exemplifies the impact of continuous support in a given area of research is the story of how the Eye & Ear Foundation provided seed funding to Thanos Tzounopoulos, PhD and the team at the University of Pittsburgh which includes Peter Wipf, PhD, Distinguished Professor in the Department of Chemistry. This funding helped to secure larger grants from the National Institutes of Health and Department of Defense to advance research towards developing a molecule that could potentially be a cure for tinnitus.
Learn how your support has made a difference in the graphic below (click to enlarge):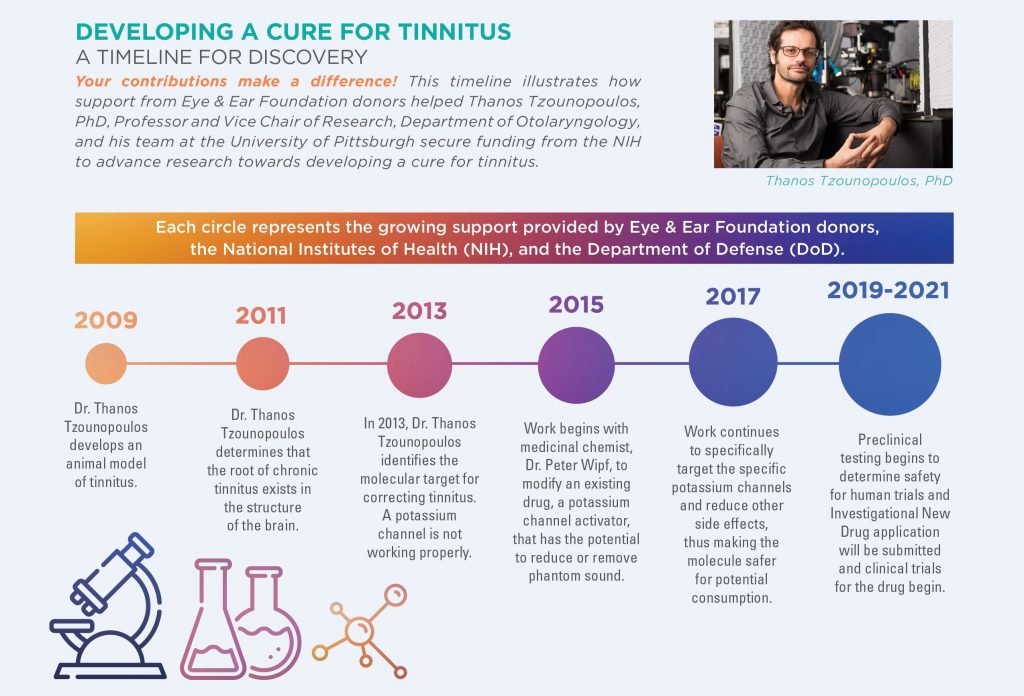 Your donations make a difference! As Dr. Tzounopoulos's work progresses to the pre-clinical stage of development, we believe that now, more than ever, that the small gifts that we collect over time have the power to be transformational in pushing research findings into the hands of patients.
To support this groundbreaking work, donate to The Eye & Ear Foundation.