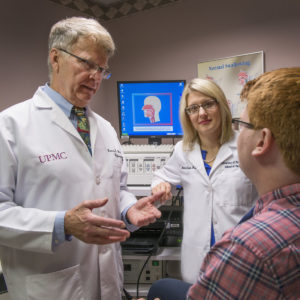 In 2016, Jonas Johnson, MD, Chairman of the Department of Otolaryngology at the University of Pittsburgh, and Marci Nilsen, PhD, RN, Assistant Professor in the Department of Acute and Tertiary Care in the University of Pittsburgh School of Nursing established the UPMC Survivorship Clinic for Head and Neck Cancer. The clinic's mission is to address the problem that many Head and Neck Cancer (HNC) patients face of fragmented, uncoordinated care while they are undergoing treatment and after they finish treatment.
In the three years that the clinic has been open, it has evolved quite a bit. The team of providers now treats patients early on in their cancer experience, sometimes immediately after diagnosis. Seeing patients early in their disease, even before beginning treatment, can make a hugely impactful difference in the support they receive and the knowledge they have about what to expect and how to manage their symptoms. Drs. Johnson and Nilsen have implemented new programs within the clinic to go even farther to enhance the care they provide to those who are undergoing chemotherapy and/or radiation. Some patients are more likely to have acute symptoms, such as dehydration, difficulty swallowing, pain, nausea/vomiting, fever, and sudden drop in blood pressure, which can be severe enough to require Emergency Room visits and subsequent hospitalization.
To meet the unique needs of these patients, the Survivorship Clinic is beginning a pilot program to employ two healthcare providers embedded at Shadyside Hospital's Hillman Cancer Center. The aim is to enhance symptom monitoring and better coordinate care during and immediately after completion of therapy when patients are suffering from acute effects. By deploying interventions early and making patients aware that there exists a first point of contact who they can reach out to as soon as symptoms of their treatment arise, it can make a significant difference in the patients' experience during treatment.
Finally, the Survivorship team has collected a large amount of data from their patient population on the various symptoms that HNC patients face and the toxicity that the symptoms can pose to their overall health and life. Currently, Drs. Nilsen and Johnson are conducting trials to better understand the connection between HNC treatment and cognitive decline.  Their plans also include a study on how treatment-related toxicities are interconnected and to review the biology of these toxic side effects. By conducting studies and publishing their results in medical journals, the knowledge gained from our one-of-a-kind Survivorship Clinic will be able to help many more patients across the globe.
To stay up to date on future events and news, follow EEF on Facebook, Twitter, and LinkedIn and subscribe to our Sight + Sound Blog. To support treatment innovations in Survivorship, make a donation to the Eye & Ear Foundation.