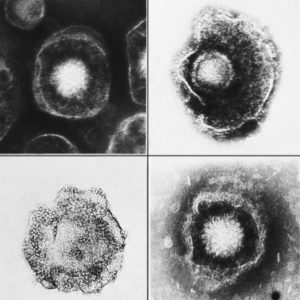 When thinking of eye diseases, most people will immediately think of things such as macular degeneration, glaucoma, and diabetic retinopathy. However, many other viral diseases of the eye affect millions of patients around the world. Clinicians and scientists in the Department of Ophthalmology at the University of Pittsburgh School of Medicine are working together to not only treat these diseases but use basic science research to lay the groundwork for future therapies.
Diseases of the ocular surface (cornea and conjunctiva) can severely affect eyesight and quality of life and include:
Allergies
Chemical Burns
Microbial Infections
Dry Eye Disease
The Herpesviridae Family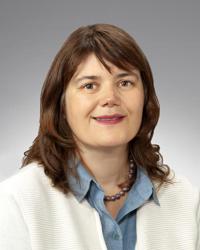 "Some of the most common diseases belong to the Herpesviridae family," says Marie Hélène Errera, MD, an Associate Professor of Ophthalmology. "Three of these diseases are the Herpes Virus (HSV), Zoster Virus (VZV), and Cytomegalovirus (CMV)."
According to Dr. Errera, 60% of the world's population are seropositive for HSV antigens; however, the vast majority of these cases are dormant. Annually, the US sees about 500,000 cases of active ocular HSV. Factors contributing to HSV include exposure to UV light, psychological stress, ocular surgery, trauma, and hormonal fluctuations. Dr. Errera and other researchers are working on a study to look at diet, medications, and the microbiome to better understand the disease. HSV is typically treated either topically or with an oral antiviral medication.
VZV is caused in patients who have had chickenpox by a localized reaction of the varicella-zoster virus, resulting in a painful rash in a dermatomal distribution. While there are more than one million cases of this virus annually in the US, about 8% of cases put the eye at risk, with the most significant number of these cases occurring in people in their 50s. Acute cases are treated with oral antiviral treatment, while chronic cases are treated with low doses of a topical steroid.
Today, there are several treatment options for patients suffering from diseases of the ocular surface. Some of these treatments include:
Lubricants
Steroids
Antivirals/Antibiotics
Corneal Transplants
The Microbiome – An Entire Environment on the Eye
"Our job on the basic research side is to come up with new therapies that could help treat these diseases," says Anthony St. Leger, PhD, an Assistant Professor of Ophthalmology. "The eye has the highest concentration of nerve endings of anywhere in the body, so there is a lot of sensitivity to the ocular surface."
Dr. St. Leger and his team of researchers concentrate their efforts on understanding how microbes interact with the host immune system to mediate ocular surface disease. While many people have heard of the microbiome that exists within our digestive system, most people do not realize that there is a similar environment on the surface of our eyes. Building upon the work of his mentor, Dr. Bob Hendricks, Dr. St. Leger is conducting studies using mice to better understand this sensitive area and hopefully develop therapies that can one day prevent these diseases from disrupting patient lives.
This type of innovative research is only made possible with support from generous donors to the Eye & Ear Foundation. If you would like to be a part of this groundbreaking work being done, please consider making a gift to help support our research.
To stay up to date on future events and news, follow EEF on Facebook, Twitter, and LinkedIn and subscribe to our Sight + Sound Blog. To support the treatment innovations that are improving care, make a donation to the Eye & Ear Foundation.