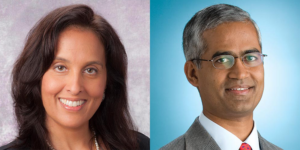 The Eye & Ear Foundation hosted a lunch and learn webinar, given by Deepinder Dhaliwal, MD, L.Ac and Shivalingappa (Shiva) Swamynathan, PhD on research and treatment advances for dry eyes.
Dr. Dhaliwal is a Professor of Ophthalmology at the University of Pittsburgh School of Medicine, Director of Refractive Surgery and the Director of the Cornea Service at the UPMC Eye Center. Dr. Dhaliwal also serves as the director of the UPMC Laser Vision Center, the Associate Medical Director of the Campbell Ophthalmic Microbiology Laboratory, and has recently been appointed as the Director of the Corneal Stem Cell Task Force at the University of Pittsburgh. Dr. Dhaliwal holds leadership positions in the Cornea Society, the International Society of Refractive Surgery of the American Academy of Ophthalmology, and the Eye and Contact Lens Association/CLAO.
Dr. Swamynathan is an Associate Professor with the Department of Ophthalmology in the University of Pittsburgh School of Medicine. He also holds a secondary appointment as an Associate Professor in the Department of Cell Biology, University of Pittsburgh. Dr. Swamynathan is interested in understanding the regulation of gene expression during maturation and maintenance of the ocular surface. Dr. Swamynathan is a member of the American Association for the Advancement of Science, and the Association for Research in Vision and Ophthalmology.
Following the presentation there was a Q&A where the presenters answered questions from the audience.
Visit https://eyeandear.org/donate to support our research and educational efforts. Please register for the mailing list to stay informed on our research and patient care advances. Should you have any questions please email Craig Smith at craig@eyeandear.org.