Twenty years after its inception, the Muse Prize dinner and ceremony continues to be the biggest event of the year for The Eye & Ear Foundation.
This was the case "even more so this year with those in attendance excited and grateful to convene in person," said George Fechter, EEF Board Chairman, who called it the November 15 evening one of purpose and passion.
To honor the world's leaders in the fields of ophthalmology and otolaryngology, EEF established the Albert C. Muse Prize in 2001. Alternating between the two fields each year, this prestigious honor recognizes individuals who have made significant, progressive advancement in research and patient care within these two specialties. In 2018, a second honor, the Muse Award, was established to recognize individuals who, through innovation and service, have made significant contributions to the Pittsburgh region.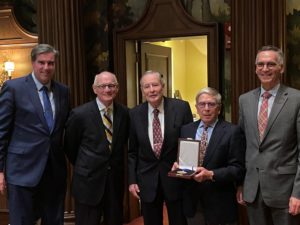 The 2021 Muse Prize recipient for Research and Advancement of Care Excellence in Otolaryngology is Robin T. Cotton, MD, FACS, FRCS (C), Professor Emeritus, Department of Otolaryngology and Head and Neck Surgery, University of Cincinnati. He is regarded as one of the premier pediatric otolaryngologists of his era, pioneering techniques used worldwide in the reconstruction of the larynx and trachea in children with laryngotracheal stenosis.
The 2021 Albert C. Muse Award for Excellence in Innovation and Service in Otolaryngology was presented to Margaretha L. Casselbrant, MD, PhD, Professor Emerita of Otolaryngology, University of Pittsburgh School of Medicine. Her main research interest is focused on otitis media.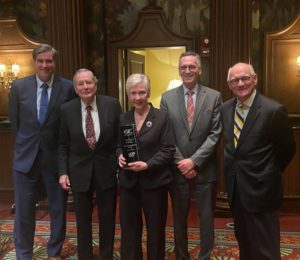 Both honorees were introduced by Jonas Johnson, Chair of the Department of Otolaryngology at the University of Pittsburgh. The Muse medal and award were presented by Fechter, EEF CEO Lawton Snyder, and Dr. Carl Snyderman.
The event also honors Albert C. Muse for his 50+ years of dedication and active service to the Eye & Ear Hospital, Institute, and Foundation. He has served as both Chairman and Vice Chairman for EEF. His unwavering support to the Departments of Ophthalmology and Otolaryngology at the University of Pittsburgh School of Medicine has driven the mission of EEF to advance research and improve patient care. This year's proceeds are going to the Survivorship Clinic.
"We celebrate science, health care delivery, reflect on Al Muse's decades of service to the Eye & Ear Hospital and Board, and we too acknowledge our fundraising, which not only didn't slow down during COVID, but rather advanced dramatically," said Fechter.
Nominations for the 2022 Albert C. Muse Prize in Ophthalmology are open to all individuals who have made extraordinary contributions to ophthalmology.