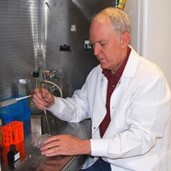 After Dr. Jim Funderburgh passed away in 2019, the Cornea Task Force was created to continue his legacy. Its goal is to bring the clinical treatment of corneal stromal cells for corneal scarring to the United States.
The Task Force is chaired by José-Alain Sahel, MD, Distinguished Professor and Chair of the Department of Ophthalmology at the University of Pittsburgh and composed of scientists (Drs. Yiqin Du and Gary Yam) and clinicians (Drs. Deepinder Dhaliwal and Vishal Jhanji).
"We aim to establish this innovative treatment to benefit many more patients that do not have access to corneal transplantation," said the lab's Principal Investigator, Dr. Yam.
The Funderburgh Corneal Regeneration Project identified corneal stromal stem cells (CSSC) as having tremendous therapeutic potential. They modulate the pathological changes of the cornea after injury, which results in scarless wound healing and regaining native corneal tissue with good transparency.
The Yam Lab – also known as the Corneal Regeneration Laboratory — has taken over Funderburgh's project, performing all laboratory investigations and research. This includes in vitro and in vivo preclinical studies (like Good Manufacturing Practice (GMP) protocol, quality control testing and animal corneal wound studies).
One of the interesting things they are studying is using stromal keratocytes to recover clear corneas after injury. As Dr. Yam explained, this improves stromal cell therapy with greater flexibility using more than one cell type for treating corneas with different wound severity.
The Task Force is important because application of FDA approval and preparation for clinical trials using CSSC requires significant resources and effort, Dr. Yam said.
"We form a task force bringing together corneal consultants, surgeons, basic scientists, and administrators to contribute expertise, identify immediate and long-term needs, recommend solutions, implement actions, and facilitate resource allocation," he added.